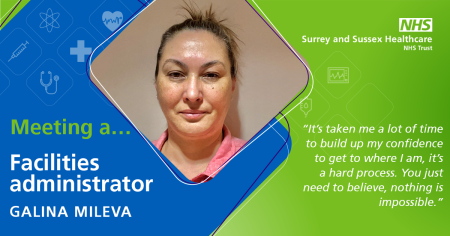 Who are you?
Galina Mileva – Facilities administrator.
Summarise your role.
In my role as an administrator, I am responsible for providing valuable support to the facilities department. This involves organising and coordinating resources to achieve the organisation's goals. My duties encompass a range of tasks, including policy implementation, effective communication, decision-making, problem-solving, and ensuring compliance with regulations. I play a vital role in supporting the organisation's overall success by fostering a positive work environment and facilitating open and transparent communication.
What is your career progression story?
Back in my home country, Bulgaria, I worked as an administrator for payroll in a local high school and gained an economy degree. I came over to the UK in 2018, later joining SASH in August 2019 in a hostess role. I spoke and made friends with everyone from different nationalities and cultures, building my knowledge up from zero. I had quite basic English when I joined so I started a conversational English class offered by SASH in 2020 to further develop my learning. Developing my language skills was really important to me and when I felt confident, I started looking for an admin job internally and one opened up in facilities. Due to my experience, I am familiar with the department so I decided to apply and here I am! I have enjoyed my journey a lot and I am so happy there are opportunities for people to better themselves. it's taken me a lot of time to build up my confidence to get to where I am, it's a hard process. You just need to believe, nothing is impossible.
What do you find rewarding about your role?
Continuously learning and improving skills across various domains is vital for professional growth. It helps achieve personal and career goals and strengthens relationships with colleagues and team members. I really do love admin work and my job. You could say it's my dream job as I love being neat, tidy and organised! I am satisfied by a job well done.
What do you find challenging?
Successfully managing numerous tasks and obligations demands an adaptable individual who can allocate their time wisely to respond to changes and evaluate challenges effectively. Communicating clearly and professionally with various stakeholders is crucial to convey information efficiently and ensuring all parties are on the same page.
What do you enjoy outside of work?
When I'm not working, I run a thriving small cake business and cherish spending quality time with my loved ones.