Congratulations to our conversational English class graduates who received their certificates of achievement on Friday 30 June 2023.
The graduates, who are all members of staff at Surrey and Sussex Healthcare NHS Trust, completed the course after attending English classes over the last 12 months to improve their conversational skills. The classes were carried out on top of their day job and gave the group the opportunity to also create new social connections amongst their fellow peers.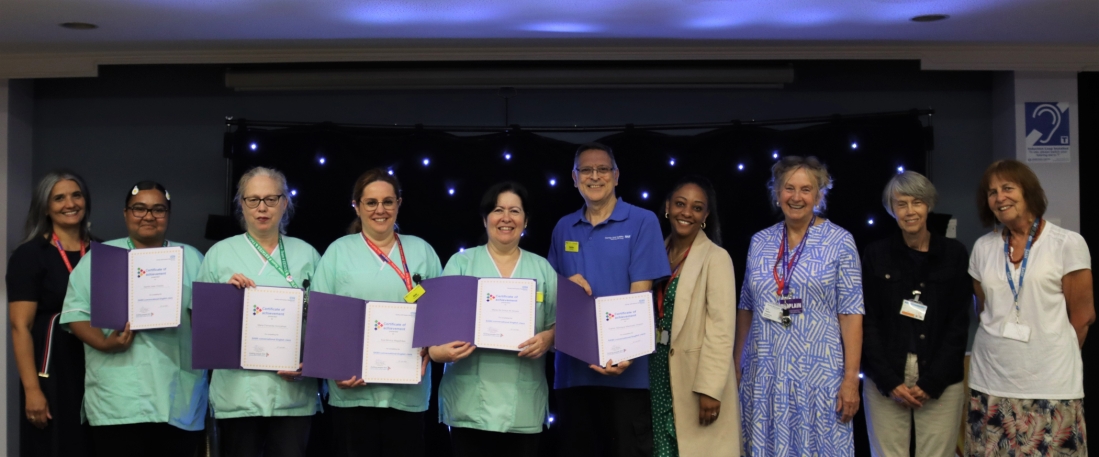 Donna Webster, associate director of people and culture engagement, wellbeing, inclusion and Sunshine Nursery presented each of the students with their certificates of achievement in the ceremony at East Surrey Hospital.
Congratulations to:
Ana Magalhaes

Maria Nogueira

Carlos Grasso

Maria Gonzales

Mr Vitor Alves

Kamini Jean Charles

Sueli Rocha
Donna Webster, associate director of people and culture said: "I was delighted to be at the graduation ceremony. It was a privilege to hand out the certificates to our latest cohort of conversational English students. I have been closely connected with the English classes since the classes began, having taught the first cohort of students.
"We are a diverse organisation and students have told us that the conversational English class has given them confidence, and support in managing social situations not just in work settings but in their home life as well.
"Huge thank you to the Cultural Inclusion Network who supported this programme of work and to the commitment of our wonderful teachers who gave up time out of their day to support and teach other colleagues."
Marie Jean-Louis, employee relations advisor and head teacher for SASH Cultural Inclusion Champions staff network at Surrey and Sussex Healthcare NHS Trust, said: "The Cultural Inclusion Champions Network started the conversational English course in 2021 to help colleagues who wanted to improve their ability to communicate with patients, visitors and other colleagues.
"The course was put together to help achieve this, but to also support colleagues get to the next step in their journey - with some colleagues from previous courses going on to complete their ESOL course or take up further literacy courses here at SASH – which is a fantastic achievement they should all be really proud of!"
The classes are led by teachers Marie Jean-Louis, Helen Allen and three volunteers Ruth Longley, Molly Taylor and Sassa England who supported this cohort.