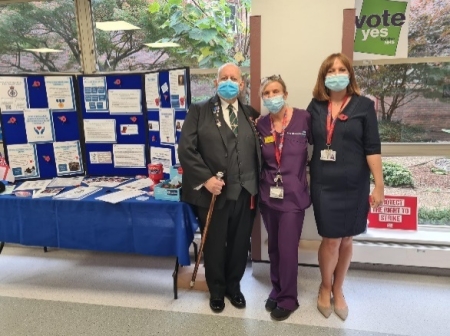 Today marks Remembrance Day and this year we are remembering and commemorating military and civilian service. Service, the act of defending and protecting the nation's democratic freedoms and way of life, is rarely without cost for those who serve. We have recently signed the Armed Forces Covenant, a promise from the nation to those who serve, or have served, that they will be treated fairly and not disadvantaged as a result of their service. This means SASH is now recognised as 'Veteran Aware'. SASH staff have been sharing what this means to them – check our social media to read what they have to say. Staff can now mark patients' veteran status on Cerner following an eSASH upgrade, allowing us to identify patients who have armed forces status. Please make sure you use this. On Sunday 13 November, Anouska Adamson-Parks and Nicky Ridings, specialist MS nurse, will be attending the Remembrance Day parade and service in Redhill to lay a wreath on behalf of the trust. Thank you to Anouska-Adamson Parks, Carly Knell and everyone else involved for all their hard work to make SASH Veteran Aware. My thanks also go to the chaplaincy team for holding a Remembrance Day service virtually and in the Macmillan Cancer Support Centre activity room earlier today. This is always a poignant moment and I hope you managed to take some time to remember those who have fallen or who live with injuries received in conflicts around the world. For more information about the Poppy Appeal 2022 please visit the British Legion website.
We know that many nurses across several organisations have voted in large enough numbers to strike. At SASH we did not reach the numbers needed to take industrial action. However, I know that there are staff at SASH who will have voted to take strike action. We want to listen to nursing colleagues who are unhappy, so we are planning listening events to acknowledge the strength of feeling. Some neighbouring organisations will be striking, and we will be supporting them to exercise their rights to take action.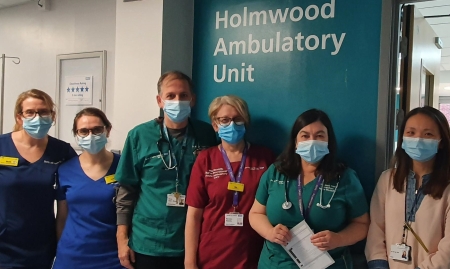 Whilst we remain very busy in the emergency department, we are changing the way we work to ensure that we can treat as many patients as possible with Same Day Emergency Care (SDEC) through our specialty ambulatory units. This takes pressure off our emergency department, ensures as many patients as possible can access the care they need, but still return home rather than be admitted. Thanks to the team who are working so hard to make this possible and who never tire of thinking about how we can provide a better service for our patients. A consequence of our new ways of working is that we have been able to return endoscopy to its intended use and have been able to fill every list that can be filled.
Last week I had the opportunity to spend some time with members of our therapy teams and we talked through the continuing challenge and the unique and crucial role they each play in a patient's journey. There remains a lot for us to do as an organisation to ensure their skills are utilised appropriately for maximum benefit, particularly at this time of such high demand. As always, they were an engaged group with a lot to offer and I know Jane Dickson and I both left the room feeling very positive about our teams and what we can achieve together. Indeed, I made my way round a number of wards this week, and I was proud and pleased to see so many of you feeling upbeat and positive. This is so important for our patients, especially in giving them the best experience at SASH, so thank you.
Graham Wareham, CEO at Surrey and Borders Partnership NHS Foundation Trust and Jane Padmore, CEO at Sussex Partnership NHS Foundation Trust came to look around our hospital this week to understand how we can work together to further improve our offerings to mental health patients. We will continue to develop shared ways of working to best meet the needs of our local population.
The local maternity neonates services (LMNS) team visited the maternity department last week to review the trust's current compliance with the 10 Maternity Safety Actions. This safety scheme applies to all acute Trusts that deliver maternity services. The purpose of the visit was to enable the LMNS to provide internal assurance to the ICB Accountable Office. The team was very impressed with the current performance in relation to each of the standards and the evidence submitted by the maternity team to support compliance. We remain so proud of the outcomes and the experience for those accessing our maternity services and it is always encouraging to have this reinforced by external experts. We also know and acknowledge that there will always be more for us to do to make every interaction and intervention count.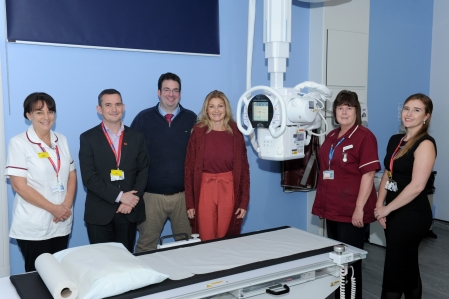 I am delighted to say that after eight months of hard work and dedication, the brand-new x-ray suite is now open at Caterham Dene hospital. This is excellent news for patients and local residents who no longer have to travel further afield for this scanning service. The new x-ray machine offers superior image quality and immediate digital images which means shorter appointments for patients and quicker results. A huge thank you to everyone involved, including Angela Eiffert, operations manager, who I am sad to say has left the trust, but am extremely grateful to for being so instrumental in getting this off the ground.
The wellbeing team has launched a new SASHnet wellbeing hub with free access to
dozens of resources to support your health and welfare, as well as exclusive discounts and Trust schemes to help spread the cost of living. I know how demanding it continues to be as we approach winter, so please do make the most of all the wellbeing support available. The wellbeing team have launched a monthly prize draw. Congratulations to our first winner, Michael Brownjohn, waste manager!
Finally, I would like to say a very big thank you to Fiona O'Sullivan, consultant ophthalmologist, who retired from SASH at the end of October. Fiona was with us for over 25 years, and I am very grateful for her leadership and dedication during this period.
Best wishes
Angela Stevenson
Chief executive