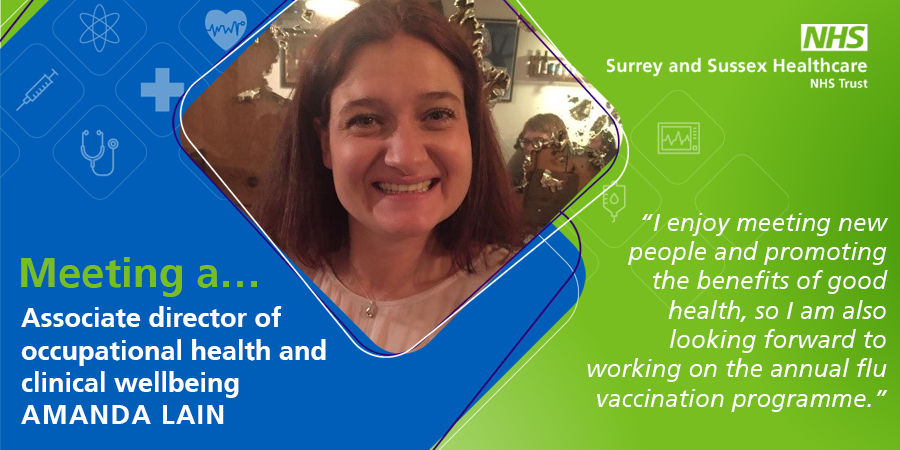 Who are you: Amanda Lain.
Summarise your role: Occupational health (OH) is here to ensure work does not have a negative impact on your health and vice versa. I oversee the occupational health team that is formed of specialist occupational health nurse advisors (nurses who have undergone further specialist training), occupational health nurses, an OH technician, physiotherapist and administrative staff. We are here to support all SASH staff.
What do you find rewarding: : I truly believe staff are our most valuable asset in an organisation. Supporting them to remain or return to work and for frontline staff, give excellent patient care, is extremely rewarding.
I also enjoy meeting new people and promoting the benefits of good health, so I am also looking forward to working on the annual flu vaccination programme.
What do you find challenging about your role: Having only been in post 10 weeks, finding my way around the sites (especially Crawley Hospital!) and knowing who to contact can be challenging. I am sure with time this will become easier. I'd like to say thank you to everyone who has made me feel welcome here at SASH.
What do you enjoy outside of work: I have three daughters who do a variety of dance genres and compete across the UK (last year they were national champions!). When I am not being a taxi driver to my daughters, I am busy making dance costumes, often finding sequins and glitter weeks later in random locations. I love going to France, partly for the good food and wine, and also for the opportunity to relax and unwind.