It is really important to me that patients have the very best experience possible while in our care. It's patient experience week, which is a great opportunity to reflect on the actions we're taking to make their time with us as good as possible. We receive lots of feedback from patients and their families, which helps us to share what matters to them and to make improvements when we haven't got things right. We've been sharing lots of this feedback on our social media channels and highlighting some examples of how we've acted on what our patients have told us. For example, you can hear from senior research nurse Ed Combes about why we extended our approach of delivering medication to people on a diabetes trial and monitoring them remotely rather than asking them to come to hospital. Watch Ed's video here.
Alongside our continued attention to patients' experience, our teams have had a real focus on making sure that we help people waiting for operations and procedures to get their care as soon as possible. Our work on this has been highlighted by NHS England – you can read the story here.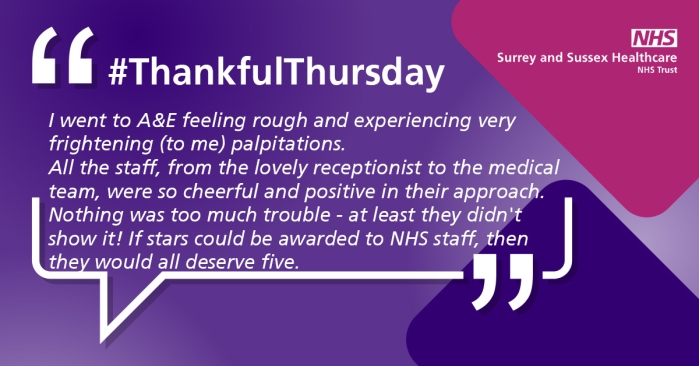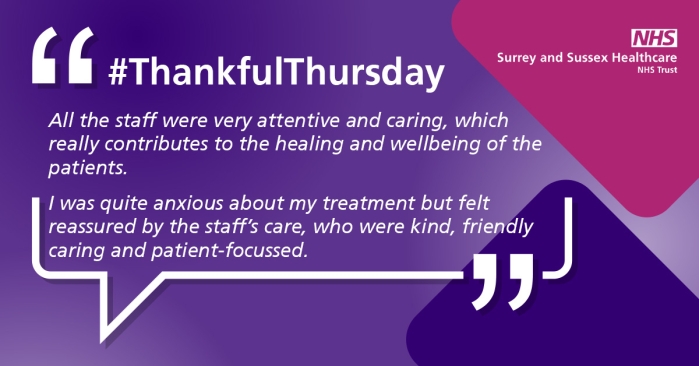 We had a private meeting of our Trust Board yesterday and I was really disappointed to have to say farewell to Caroline Warner who is standing down this week. Caroline has been a non-executive director since October 2016 and I have loved working with her. She's going on to pursue a number of exciting opportunities and we will miss her greatly. She has been a tremendous asset to our organisation, chairing our safety and quality committee and previously our charitable funds committee. She has always been a great champion of patient experience and has brought creativity and challenge to the table, helping us see what matters and encouraging us to always listen.
Well done to our KPO team, who this week ran our latest SASH+ open day. It was a chance to showcase our improvement methodology and give external attendees an opportunity to hear about how SASH+ works in practice. Our eSASH team, chief pharmacist Jo Rhodes, gynaecology outpatients manager Katie Davies, and deputy director of strategy Carly Knell all presented, demonstrating how SASH+ is helping make a big difference in individual areas and projects as well as across some of our trust-wide programmes.

March sees the end of the financial year which means our accounts have to be finalised and submitted. This is a huge task which our finance team, led superbly by Peter Burnett, have been hard at work on over the last few weeks. They've now finalised our submission so we can proceed to the audit process. It takes a great deal of diligence and expertise to manage such a complex task at pace – they've done a great job and I'm very grateful.
We're now in to our new cycle of achievement reviews and these are really important for our colleagues. We must make sure we're helping each other to progress, to access support and to reflect on what we've achieved. Our achievement reviews are the cornerstone of how we do this at SASH. All of the information you need is on the dedicated SASHnet workspace – I know these take time to do and it's difficult when we're so busy, so please let us know what support you need to help your teams to complete their reviews. I'm particularly keen that we support ward managers with this process, so please talk to your divisional leadership about how we can help – our chief of nursing and midwifery Jane Dickson will be working with divisional chief nurses to support you.
Looking ahead, Eid Mubarak to all of our colleagues, patients and community celebrating in a few days! My thanks go to everyone who has supported colleagues or patients to observe Ramadan too. Following Eid, next Wednesday Three Arches restaurant will have a special menu in celebration.
A big thank you to everyone who will be keeping our services running and providing vital care to our patients over the bank holiday weekend. I'm very grateful to colleagues at Sussex Community NHS Foundation Trust, First Community Health and Care, Surrey and Borders Partnership NHS Foundation Trust and Sussex Partnership NHS Foundation Trust for their help in supporting people to leave hospital when ready to ahead of the long weekend.
Best wishes
Angela Stevenson