It's been a very eventful week at SASH. I was so proud to join our wonderful maternity team as they welcomed Professor Jacqueline Dunkley-Bent, England's chief midwifery officer and Dr Matthew Jolly,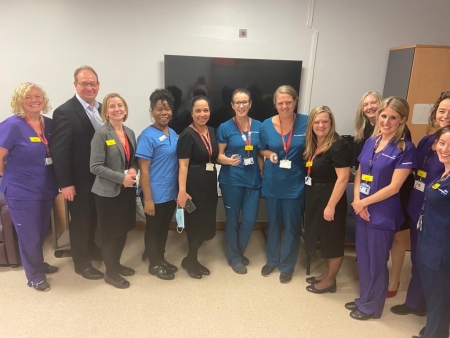 national clinical director, to East Surrey Hospital. Jacqueline praised the whole team on Twitter, saying we displayed 'so many areas of great practice'. She also presented Sarah Prime and Kate Stringer with prestigious 'silver awards'. The awards are given by the chief midwifery officer to recognise colleagues who have gone above and beyond. Sarah had been nominated for her significant work to improve safety and risk management in relation to the Saving Babies Lives care bundle, while Kate has provided invaluable support during periods of significant pressure alongside introducing a number of innovations to improve the experience for local women. Well done to the entire team and specifically to Sarah and Kate – we're very proud of you.
Alongside these awards, our procurement team has been shortlisted for a national sustainability award for their work to introduce a new way of providing sharps bins across the Trust. You might remember we told you about this work earlier in the year, at which point it had already prevented 13,620 single-use containers from being manufactured, meaning that seven tonnes of single-use plastic will not be incinerated. Well done to colleagues in procurement – fantastic. We have our fingers crossed for the ceremony on 6 December.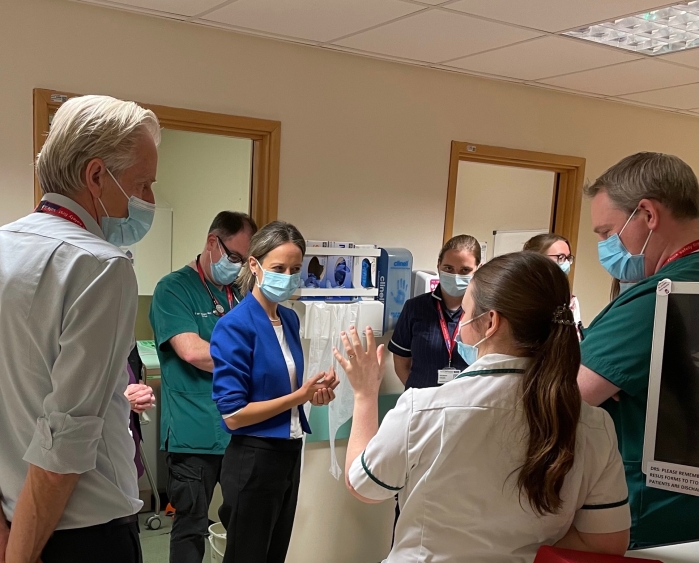 Yesterday we hosted a visit from Helen Whately MP. Helen is Minister of State in the Department of Health and Social Care and came to hear about how we work with partners across the patch to help people get home as quickly as possible after a stay in hospital. This is of course one of our biggest challenges at the moment. It felt important to showcase how hard our teams are working across Surrey Heartlands to get people the care they need. Our team on Godstone Ward look after people who are preparing to leave hospital and as such work really closely with our integrated discharge team and partners from other health and care organisations. Our clinical site team were
also able to describe their crucial work in maintaining flow here at SASH. Both teams were able to display our partnership working while also describing the very real challenges we face on a daily basis.
Despite these challenges I'm pleased that we have seen more improvement in waiting times in our emergency department this week. There is still a lot of work for us to do, but in recent weeks we have seen steady progress thanks to the exceptional work of people across our services and the wider system. We are, though, still seeing very high demand for paediatric services and I would again like to reiterate the advice we recently shared for parents. Please be assured that we are working very hard alongside other local organisations to support each other as much as we can to help people get the care they need.
It was great to welcome Karen Breen to SASH this week. Karen has stepped into the role of interim chief operating officer and brings really valuable knowledge and experience. I'm sure you will all extend a warm welcome to Karen as she meets many of you over the coming days.
Tuesday this week marked a very special anniversary. It was twenty years to the day since our first cohort of nurses from the Philippines arrived at SASH. Many are still working here today and we are very fortunate that they have chosen to build their careers with us. Our biggest strength is our family feel and this anniversary has showed me the importance of providing a welcoming and supportive environment for everyone who starts here.
Thank you to our chaplaincy and spiritual care team for organising a poignant memorial service for colleagues we have lost in recent months. It's so important for us to take the time to come together, reflect and grieve. I am very grateful for the care taken to give us this opportunity. On Saturday the team are holding a Time to Remember service for the public in Redhill and I know they will do us proud there too.
I hope many of you took the opportunity to visit the Friends of East Surrey Hospital's Christmas Fair yesterday. The had a stall at East Surrey Hospital selling all sorts of gifts – all to raise money for the hospital. If you missed them don't worry, they are returning on 6, 12 and 15 December. Their presence was another reminder of how much we miss having them on site, so we're all looking forward to next year when plans will progress to bring back the café on site.
Finally, I'm very grateful to many colleagues for how we responded to some IT issues on Wednesday evening. There was a national issue outside of our control which caused a temporary period of downtime for some of our systems. Colleagues across the Trust responded calmly and professionally even though we're still getting used to our new digital systems, and they were brilliantly supported by members of the digital division who were quickly on hand to make sure we knew what to do. Great team work – thank you!
Best wishes
Angela
Angela Stevenson
Chief executive