Hello everyone,
This week we've continued our focus on prompt ambulance handovers, the discharge process and board and ward rounds in our intensive kaizen programme. Concentrating on these areas has already seen benefits:
The emergency department (ED) admin team suggested relocating where they were based to support the check in process for ambulance handovers. This reduces the number of steps they need to take per handover from 65 down to just five, with this and other changes leading to patients being registered on average five minutes quicker than before.

At the start of the focussed work on our discharge process on Abinger Ward, a junior doctor suggested creating some standard work for referrals to specialties. Having created that standard work, all referrals from Abinger to medical

specialties on Wednesday were completed within 24 hours.
Colleagues on Chaldon Ward are refining their board round processes so that all critical information can be shared with the relevant people in under fifteen minutes. This is enabling quicker decisions to be made. The knock-on benefit for patients is significant, with four patients being discharged before midday on two days this week.
These things can add up to big improvements over the course of a day so we're continuing to monitor the impact, while putting plans in place for how we take the learning and share it with other areas across SASH. In each of the three areas we've also been listening to colleagues' feedback about how they're feeling and are now finalising plans to increase support based on what they've told us.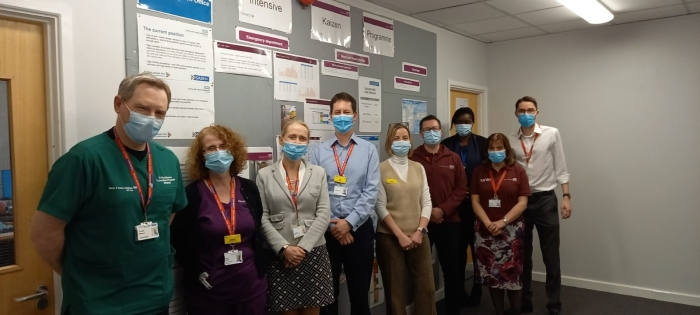 On Monday I was with colleagues from across the health and social care system at our sustainability workshop, and we discussed how we can support each other with these areas too. There's great commitment from all partners to support one another and ultimately minimise delays for patients. Crucial to this will be our relationships at East Surrey 'Place' level. On Wednesday Sumona Chatterjee, East Surrey Place-based leader, gave a great update to our Surrey Heartlands Integrated Care Board partners on how we're developing our relationships in this part of our integrated care system, some of the challenges we face and the progress we're making. These partnerships are going to be increasingly important in helping us to improve the health of our local population.
I'm delighted to tell you that we have appointed Colin Pink to the position of chief of corporate affairs and governance. Colin was successful following a comprehensive external recruitment process and takes on the role immediately following Gillian Francis-Musanu's retirement. Many of you will know Colin, who has been acting up to the role from his previous position as head of corporate governance. He brings excellent experience and enthusiasm in effectively managing governance whilst also consistently demonstrating our values.
I'm on annual leave next week so this update will come from my deputy, Paul Simpson. While I'm off there is a really important date for your diary. Monday is World Parkinson's Day and if you've been looking at our social media channels this week you'll have seen us sharing a daily fact in the build-up. We're doing this not only because awareness in general is important, but also because there are critical safety considerations for us as healthcare professionals. If there's one thing I'd like all colleagues to remember this Parkinson's Day it is that we must make sure that people living with Parkinson's receive their medication on time. To build the awareness, we're lighting up parts of East Surrey Hospital blue on Monday evening and encouraging all our colleagues to do as many Sit2Stands as possible on the day as part of the national initiative. Across the country the aim is to complete 145,000 because there are 145,000 people living with Parkinson's in the UK. Don't forget to submit your department's contribution on SASHnet so we can tell the national group how many we've contributed from SASH!
Have a good week and I'll see you after Easter break.
Best wishes
Angela Stevenson
Chief executive