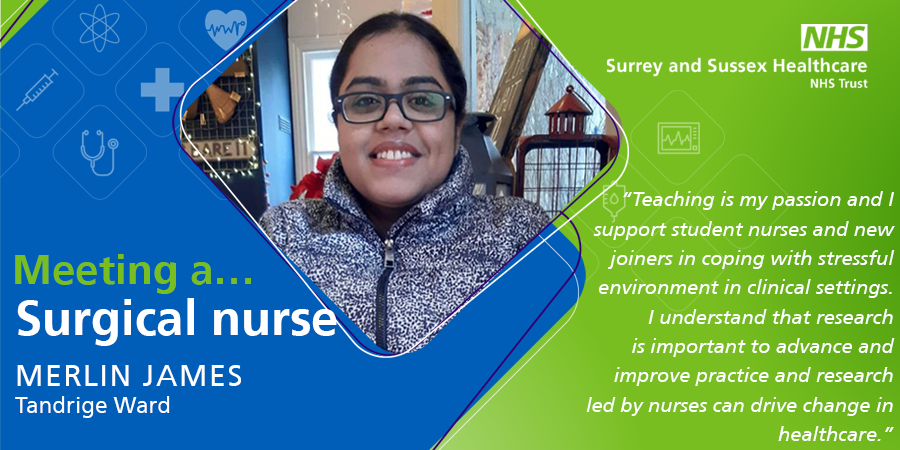 Who are you?
Merlin Mary James.
Summarise your role.
I am responsible for rendering professional, skilled and effective evidence-based nursing care, while making sure it is always delivered to a high standard. Loyalty and determination are my key drivers at work. In my current job role, I am involved in reviewing research articles in Journal of Midwifery (Elsevier's) and helping student nurses and new joiners to cope with stressful environments in clinical settings. I understand that research is important to advancing and improving practice, and that research led by nurses can drive change in healthcare. I look out for avenues for contributing to research at SASH and recently, I was awarded with a research training award from the NIHR.
What do you find challenging about your role?
Considering the fast pace of work in my department, keeping up with the demands of the ward can be challenging. Working in the surgical assessment unit (SAU) has helped meto remain calm in turbulent times and ensure that my team feels supported.
What do you find rewarding?
The most rewarding thing is helping patients find a ray of hope amidst the dark hue of uncertainty by communicating with them and making sure that their needs are met appropriately. Another aspect I find rewarding is helping out my colleagues who are struggling to cope with demand at work and reaching out to them.
What do you enjoy outside of work?
I love spending time with my family and trying different cuisines. I enjoy reading autobiographies and watching Christian documentaries to feel inspired by their journey of faith.
Find out more about Merlin in this week's At a Glance.