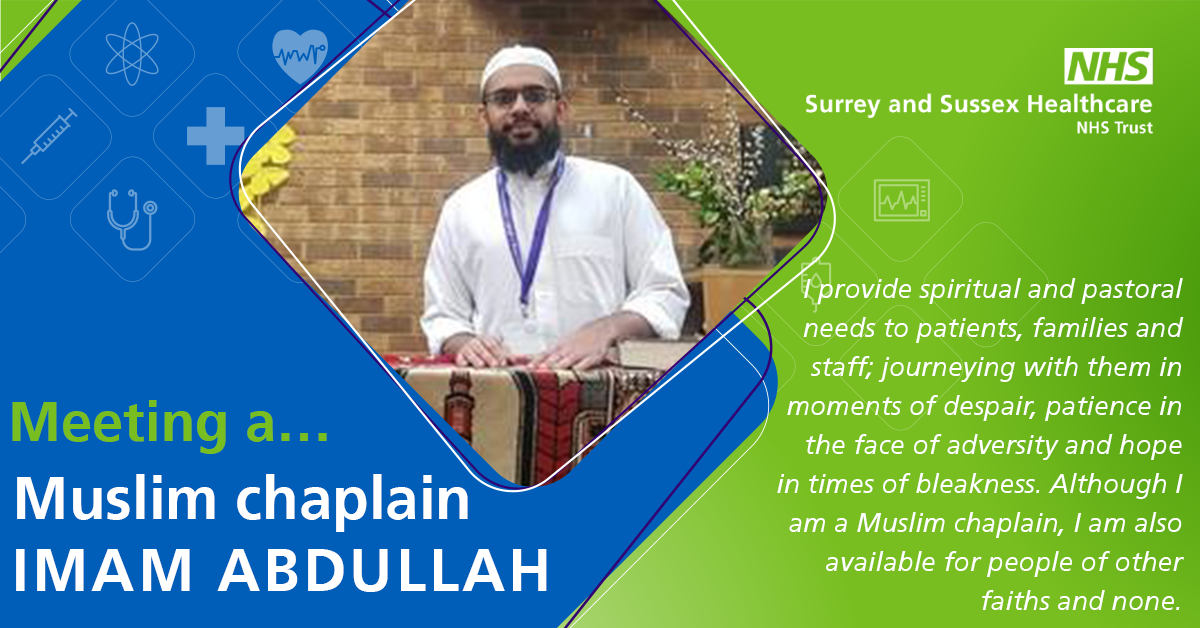 Who are you?
(Imam) Abdullah Bismillah
Summarise your role.
I am the Muslim Chaplain in the Trust. In Islam, Imam is an equivalent name for a priest in other religions. I work alongside other chaplains to provide spiritual and pastoral needs to patients, families and staff; journeying with them in moments of despair, patience in the face of adversity and hope in times of bleakness. Though I am a Muslim chaplain, I am also available for the people of other faiths and none. In many times I have helped colleagues work through moral issues as they carry out their duties. In the chaplaincy department, I'm involved in ensuring we have Islamic resources as we promote diversity.
What do you find rewarding about your role?
Helping individuals deepen their spiritual understanding, develop their faith and find comfort and solace in times of need. Ultimately, when the patient/staff member has a smile on their face and utter 'Thank you, this visit really helped'
It makes my day knowing I have support from the brilliant Chaplaincy team, where we all have a common purpose to care and support others at SASH.
What do you find challenging?
Encountering patients from a range of cultural and religious backgrounds and being able to provide support that is relevant and meaningful to each individual. I endeavour to treat every patient as individual and every story as special to them. This is not easy but it means a lot to them. It can be emotionally challenging when providing support to those who have experienced trauma or are dealing with stress or anxiety whilst maintaining my own emotions and stress levels. I am involved in conducting hospital babies' funerals and this is very tough, especially supporting young mothers and their relatives both at bedside and graveside.
What do you enjoy outside of work?
I am heavily involved in youth engagement and community building work alongside serving my local Mosque. I play football weekly and watch with a passion. Unfortunately, restaurant hopping has eaten away at my precious time. (Actually, Redhill Kebab is open till late!)