Hello everyone,
In keeping with the recent trend across our region, we've seen an increase in the number of patients in hospital who have COVID. Whilst many are in hospital for other reasons it's a reminder that the virus is still with us. That's why we're proceeding carefully only making changes with our guidance when we are confident any risk is minimal. In line with that thinking we have been able to make some adjustments- we've extended visiting slots from one hour to two, and now facilitate two visitors at a time. You can read the full visiting guidance here. We've also opened up Three Arches Restaurant at East Surrey Hospital to patients- I hope this change makes things easier for people.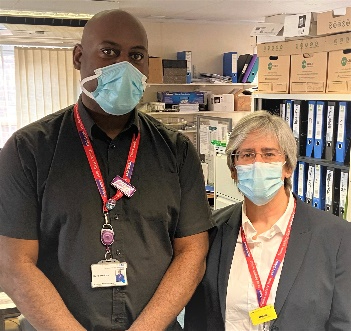 One thing that certainly makes things easier for patients and their families is having great communication from our staff. This week I was very pleased to be able to say a personal thank you to David Davidson, day case coordinator in the dental team. As you know we've faced increasing pressures on our services for some time which has regrettably meant we've had to change appointments. Day case coordinators like David play a crucial role in communicating information to, and answering queries from, our patients and their families. David's team told me how he's done this with real professionalism, enthusiasm and gone out of his way on countless occasions to make sure that the experience provided is the best it can be. I'm grateful to David, his whole team and everyone at SASH doing this crucial work of coordinating appointments.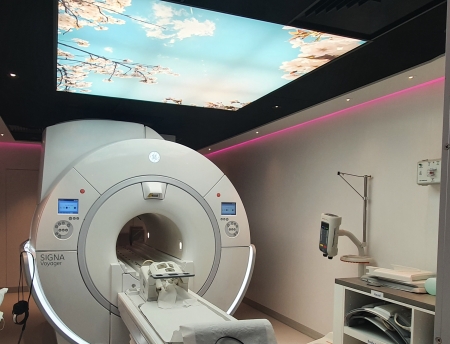 We of course always want to see patients as quickly and reliably as possible. This week we installed a new facility to help us with this - a new MRI scanner at East Surrey Hospital, meaning we now have three on site. The new facility is a 'relocatable' scanner, giving us more capacity in a temporary location while we build a permanent home for our third scanner later this year. It means we can provide hundreds more scans a month. You can read more about this story here.
I'm grateful to everyone who helped show Ian Smith, chair designate of Surrey Heartlands Integrated Care Board (ICB), more of our services on Monday. He was keen to see our SASH+ improvement methodology in action, so colleagues demonstrated how it works on the genba. Our Chair Richard Shaw and I also had really positive discussions this week with Stephen Lightfoot, chair designate and Adam Doyle, chief executive designate, of Sussex ICS. We've a shared desire to work closely together to improve healthcare for our Sussex population, I left feeling energized and excited for the future.
I'm pleased to tell you that Donna Webster has re-joined SASH in a new role as our lead for workforce engagement. She'll be focussing on supporting and listening to colleagues across our One Team, helping us to understand how you feel and how we can keep making SASH an even better place to work. Over time she'll be visiting departments across SASH so do say hello when you see her.
Finally, two exciting dates for your diary. Run Gatwick takes place on 8 May, and we'd like to have our biggest ever team running to raise money for SASH Charity. There is a 5k, 10k, half marathon and a family race – find out how you can get one of our free places here. Later in May, on 26th, a SASH Charity supporter is helping us to put on a very special charity golf day at Kingswood Golf Course. You can find out more about this event here.
Best wishes
Angela Stevenson
Chief executive