Hello all
So this week the cold snap is back and I don't know about you but I'm very much looking forward to when we can officially declare that spring has sprung and put away the hats, coats and hot water bottles and start dreaming of summer BBQs.
That said, I do of course need to reflect this week on the ongoing pressures we are facing - largely in our emergency department, but also around limited bed capacity and challenges with discharge.
This means, now more than ever, we need to expedite discharge throughout the hospital to ensure we can deliver safe care to all our patients.
We have made a great start in doing this already today, and it has been truly fantastic to see all our teams rallying together to make this happen, get patients home and help ensure the safe running of the hospital ahead of the weekend.
I know it has not been easy, and I know from talking to staff in our Emergency Department earlier this week that they are under pressure right now. It's been a long winter, so I do want to take this opportunity to once again thank each and every one of our colleagues more widely for their immense efforts in facing these challenges as a team and continuing to deliver for patients.
While we are on the subject of recognition, I would also like to thank all our colleagues, and consultants especially, for coming together this week to support planning for the upcoming strikes for doctors in training, ensuring patient safety remains at the very top of minds.
It therefore feels very apt to urge everyone to vote in this year's Star Awards if you haven't already – nominations close in just two weeks and I'm sure there are countless deserving teams and individuals - so please don't miss your chance to nominate someone who has made a difference at SASH.
In other news, I also wanted to share that I have recently been appointed the CEO lead for digital in Sussex. This is an important role and I'm excited to get started and look at how we as Trusts can all work and collaborate better across the region to connect, digitise and transform healthcare to fit the digital first world we now live in.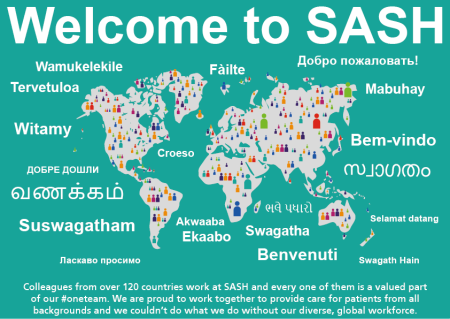 Finally, Sunday 5 March marks the second annual Overseas NHS Workers' Day. At SASH, we have staff from over 120 different countries and I am incredibly proud that so many colleagues from overseas choose to build their careers with us. Our diversity is a strength and I recognise the amazing contributions international staff working at SASH make to us as a Trust, as well as the wider NHS. Our very own Three Arches restaurant will be serving international dishes to mark the occasion – so do check it out if you can!
Best wishes,
Angela Stevenson
Chief executive