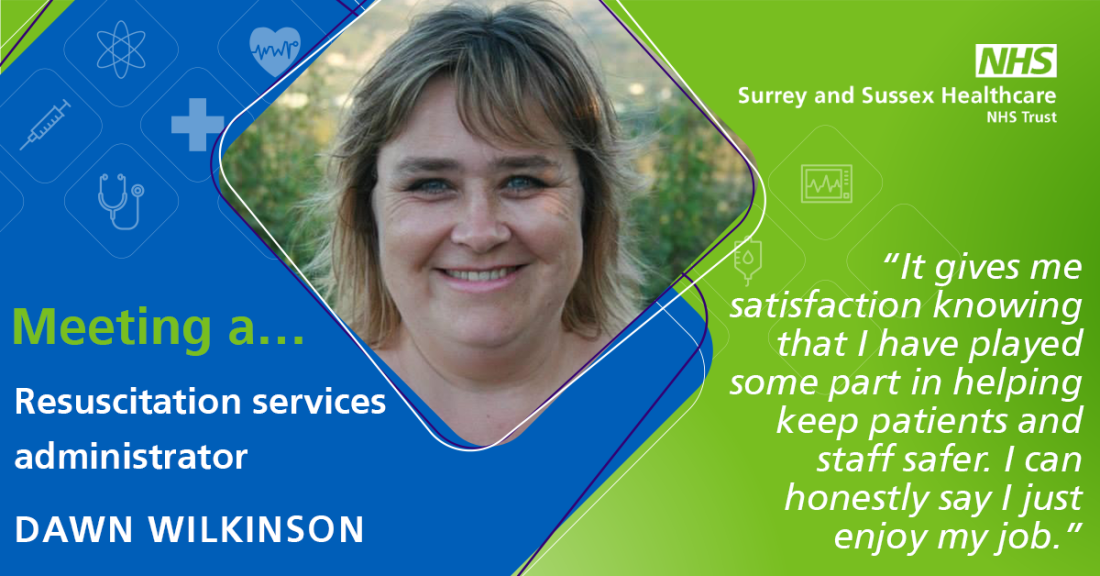 Who are you?
Dawn Wilkinson.
Summarise your role.
I administer all the requirements for the resuscitation services team. This includes organising all the resuscitation courses applications; enrolling them onto the Resuscitation Council UK (RCUK) website and sending our course information to every applicant.
We provide over 170 sessions of BLS, ILS, PILS, ALS and EPALS courses for the whole Trust each year. Each course empowers staff by increasing or reinforcing their knowledge and increases patient safety. We have trained well over 400 staff so far this year. This is either in our training room or at point of care.
I also collate information regarding cardiac arrest calls in the Trust. I enter details into the National Cardiac Arrest Audit (NCAA). This enables us to compare various data results against other hospitals and areas across the country. Reviewing our hospital's data helps to highlight any training requirements in recognising the deteriorating patient; which can help prevent a cardiac arrest.
In addition, I order items for all the resuscitation trolleys and emergency grab-bags across the Trust, ensuring each area has the tools to deal with a cardiac arrest.
I maintain our SASHnet workspace page and update it regularly. It has all our information, including course dates and application form.
What do you find rewarding about your role?
It is lovely to see staff relaxing into the training and realising they do not need to be scared of our courses. It gives me satisfaction knowing that I have played some part in helping keep patients and staff safer. I can honestly say I just enjoy my job.
What do you find challenging?
It can be difficult organising all the candidate applications and is almost a full-time job in itself. It is sad dealing with the details when a patient dies, so I can update NCAA but I like to think I am showing them respect by ensuring their details and information is used as part of the national audit and can help patients in the future.
What do you enjoy outside of work?
When I am not at work I love spending time with my family and my two scatty golden-doodles. I also take part in the Jumpstart sessions offered by the hospital, and have improved my fitness and dropped a dress size!