Apprenticeships at SASH
As an apprentice at Surrey and Sussex Healthcare NHS Trust you will gain a nationally recognised apprenticeship award whilst working and developing your skills.
Apprenticeships are a key part of government policy and the NHS Long Term Plan in creating employment opportunities for future health and care workforce. They also support our widening access agenda to help with the recruitment of staff from our local community.
Our apprentices benefit from the following:
Work experience gained in a live work environment
Putting learning into practice and enhancing their knowledge, behaviours and skills
Working with colleagues, tutors and assessors dedicated to assisting their development
Not having to fund their own qualifications
Ability to earn whilst they learn
Trust commitment to staff development
At the moment we offer most of our apprenticeships to colleagues within the Trust. This is because we try to offer our staff the best career development opportunities available. The best way to get onto one of our apprenticeship programmes is to secure a job here within the Trust.
We offer a wide range of paid apprenticeships across a variety of departments and roles:
Senior Healthcare Support Worker level 3
Trainee Nursing Associate level 5
Business Administrator level 3
Team Leader/Supervisor level 3
Plumbing and Domestic Heating Technician level 3
Electrical Maintenance Technician level 3
Please see below examples of career pathways available via the apprenticeship training route: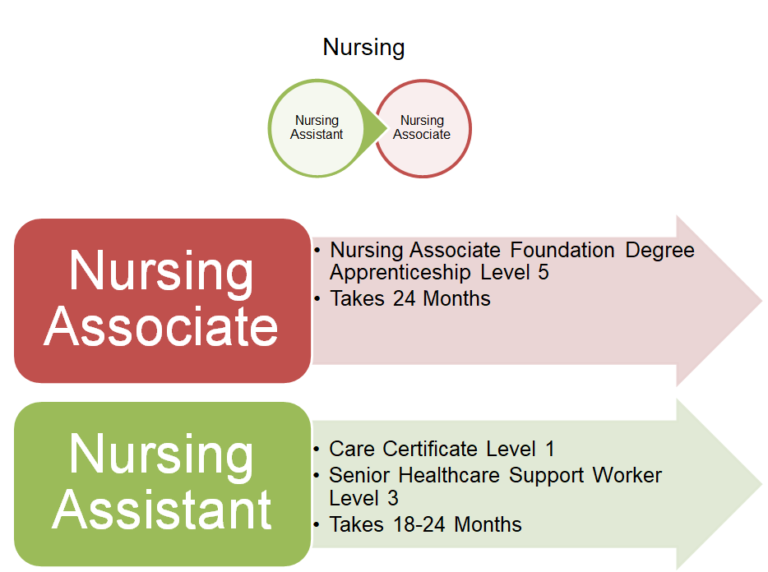 Some of our apprenticeships may require you to have a specific qualification before starting. In many cases we can provide the opportunity to gain these qualifications.
To ensure you do not miss out on job vacancies that we advertise please check our current vacancies.
We recommend you create an account and set up an email alert, which will notify you once a suitable apprenticeship vacancy has been advertised.
| Reporting on Public Sector Apprenticeship Target | 1 April 2020 to 31 March 2021 | 1 April 2019 to 31 March 2020 | 1 April 2018 to 31 March 2019 | 1 April 2017 to 31 March 2018 |
| --- | --- | --- | --- | --- |
| Percentage of apprenticeship starts (both new hires and existing employees who started an apprenticeship) between 1 April to 31 March as a proportion of total headcount on 31 March | 1.63% | 1.22% | 1.44% | 1.44% |
You may also wish to take a look at the following websites which offer careers guidance and information on working for the health service:
If you would like to speak to an advisor about any of the above or do have any further questions. Please contact sash.academy@nhs.net and we will be happy to help!