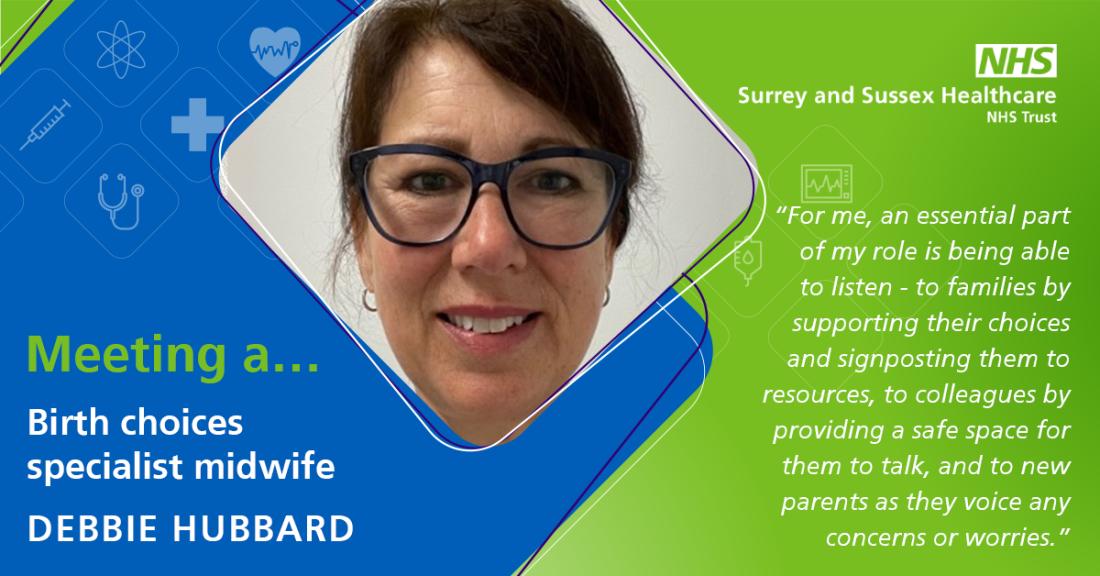 Who are you?
Hello my name is Debbie Hubbard and I am a birth choices midwife, guidelines midwife as well as a professional midwifery advocate and a midwife examiner of the newborn.
Summarise your role.
I am very lucky because I have several roles within midwifery which are all varied and very rewarding but for me, an essential part of all these roles is being able to listen; to families by supporting their choices and signposting them to resources, to colleagues by providing a safe space for them to talk; and to new parents as they voice any concerns or worries. In addition, my role as Guidelines Midwife helps ensure the care we all give as midwives is safe, inclusive and up to date.
What do you find rewarding about your role?
The most rewarding part of my role is supporting families with their preferences for birth, especially after a previous traumatic experience, and helping them to feel empowered. It's also talking through a concern from a member of staff and helping them find a resolution.
What do you find challenging?
The role of the midwife is so much more than caring for families during pregnancy and birth and keeping them safe. The last few years have been exceptionally busy and stressful for all and this has sometimes affected the experience of our families as well as putting additional pressure on staff. It is incredibly challenging to hear that the experience was not a positive one or that a staff member is unhappy and not enjoying their job.
What do you enjoy outside of work?
I love being outside in the fresh air so cycling, gardening and walking my dog Luna make me happy. I also relax by singing in a choir and doing yoga.