Hello all,

We've seen a welcome reduction in the number of patients in our services with a positive COVID test result this week. There is an increasing amount of flu around though, and it is important to remember how serious of an illness flu is. So, if you haven't already had your flu jab, please get it as soon as you can and play your part in stopping the spread of infection. By getting your jab you'll be looking after yourself, those closest to you and our vulnerable patients. You can drop into occupational health in Brickfield House, and the team are still working their way around our services too – please don't delay.
Teams across our trust have once again been under lots of pressure this week, with lots of patients needing to stay in hospital after attending our emergency department. All our teams are working exceptionally hard to ensure patients can move through our services smoothly with minimal delay whilst maintaining the highest possible safety standards, so an enormous thank you to every single person in our One Team.
At our last board meeting we took an important decision about our patient and public participation function, which includes our Governors. Our Governors have come from the public, our staff and local organisations, and have made a significant contribution to the Trust in recent years. You'll probably have read about their contribution in the regular newsletters they've put together, but you may not be aware of the variety of support they have provided to us. As well as meeting formally to discuss key issues with our Board members, individual Governors have played important roles in various board committees, helping us to develop strategy, raise issues and improve patient experience. They've conducted surveys on matters like patient entertainment, developing telephone clinics and provided a valuable public perspective. Working with patients and our community in this way is incredibly important to me. We've been reviewing how we do this, with the aim of making sure we have the right systems in place to put the voice of patients and local people at the heart of what we do. Our Board has taken the decision to develop this model and build on the achievements of our Governors. To do this we will be embarking on a completely new model – we will begin to build a network of patient / public representatives and work in partnership with existing groups that represent patients across the local health and social care landscape. We're really excited by the potential. Doing this will mean we will no longer have individual Governors, but we very much hope many of the people involved will join us in our new network. I would like to pay tribute to everyone who has been a Governor over the years. They have given up their own time to help and support us – this is something worthy of celebration. I look forward to seeing some of the Governors next week to say thank you in person.
Please don't miss the chance to have your say in the national staff survey this year. It's really important in helping us to make our organisation the best possible place to work. You should all have had an envelope with your survey in it. If you'd rather fill it out electronically you can scan your individual QR code link on the survey in your envelope. This year if you fill in the survey your name will be put into a random draw to win some great prizes including £50 vouchers from staff benefits, indulgent sweet and savoury treats hampers and a wellbeing mindfulness hamper. The survey is completely confidential, so to maintain this confidentiality the prize draw is being managed by the independent survey provider.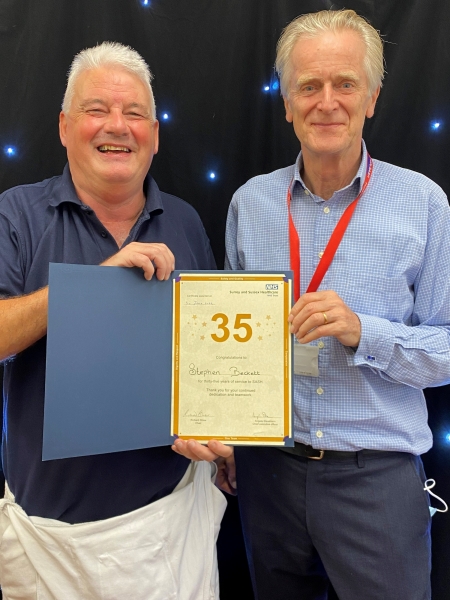 Congratulations to Steven Beckett, painter and decorator in our estates team, for 35 years of service to SASH. Congratulations also to Karen Harvey, senior sister in ED, who has been with us five years working as a student followed by 20 years of substantive service to SASH. What an accomplishment – thank you both for your continued dedication!



I always feel proud when I hear great feedback from our patients, but it's extra rewarding when it comes from someone we know. My thanks go to the brilliant team on Pendleton Unit for providing such excellent patient care despite how challenging it has been – and continues to be - during these busy times.
Every week on our social media channels we share messages of thanks from our patients. This week we shared a powerful message from a colleague who had received care with us. You can read it here. I was particularly struck by the praise given to the receptionist in the imaging team – #OneTeam at its very best.
Best wishes
Angela Stevenson
Chief executive