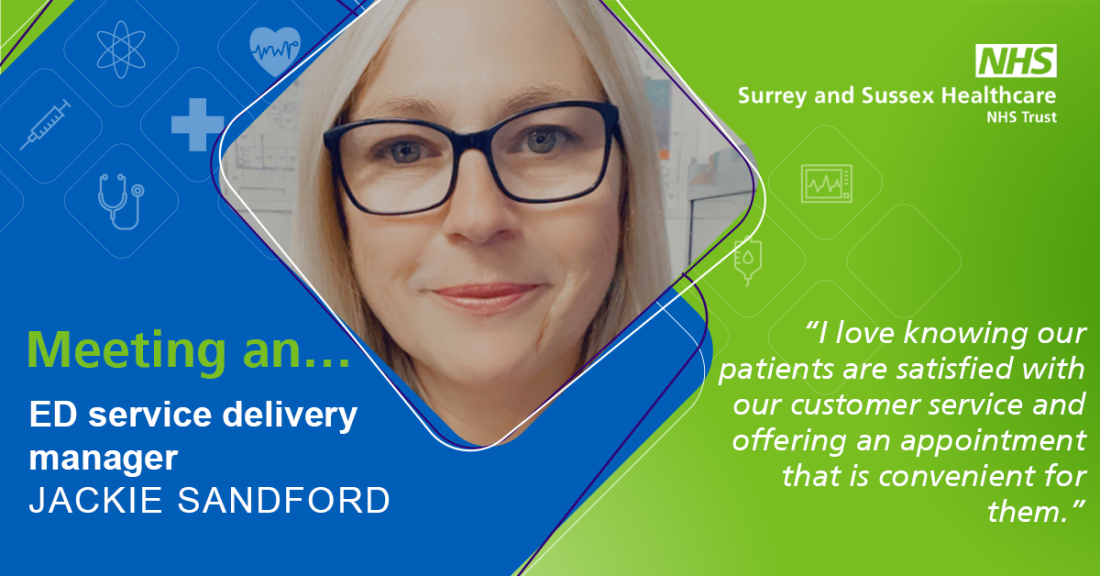 Who are you?
I'm Jackie Sandford, ED service delivery manager.
Summarise your role.
I support the general manager and wider divisional team in the delivery of performance and business objectives with responsibility for the emergency department (ED).
I am the first line management for the ED assistant service delivery manager, ED and AMU secretarial services, patient flow co-ordinators and ED admin clerks. This includes the day-to-day operations, recruitment, retention, rota management, annual achievement reviews, and sickness and performance management.
I have specific operational responsibilities with focus on quality, patient access, activity and financial targets. I also have responsibility for the data validation of ED targets as well as ambulance handover performance.
What do you find rewarding about your role?
I have always been a people person and I enjoy interaction with patients, relatives and colleagues inside and outside of the trust. Being able to help a person with sometimes the simplest task is very rewarding. Our amazing teams are one of our greatest assets and I enjoy watching new members of staff grow in confidence and be able to provide excellent front of house services.
What do you find challenging?
Ensuring adequate staffing and support to our teams especially during COVID was extremely challenging, but having a strong One Team approach saw us through with our different ED admin teams helping to support each other.
What do you enjoy outside of work?
I enjoy spending time with my husband, two sons, their girlfriends, friends and family. We are new grandparents so I love spending time with our baby grandson Roman.
I also enjoy being able to go on holidays, spending time outside – we have a cocker spaniel called Mae who needs long walks and this gives me the time to breathe and clear my mind after a busy shift in the emergency department.