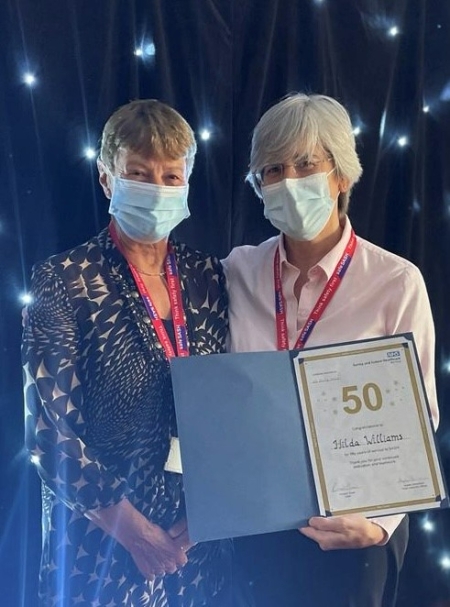 Hilda Williams from East Surrey Hospital's workforce team is celebrating 50 years of NHS service and has been commended for her dedication.
Hilda – or 'H' as she is affectionately known – is currently the registration authority coordinator at Surrey and Sussex Healthcare NHS Trust (SASH).
To mark the milestone, Hilda was presented with a special long service certificate by Angela Stevenson, chief executive, and Elizabeth Nyawade, chief of people and culture at SASH.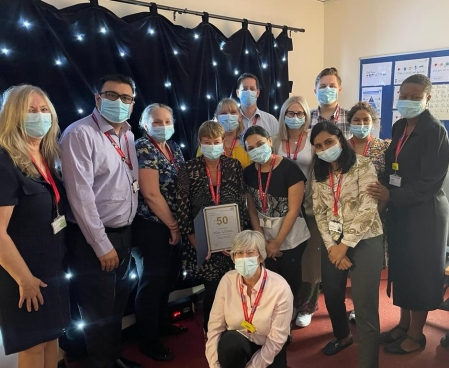 In her daily role, she helps make sure staff have the right access to the information they need to deliver care for patients. Over the years she has worked in a variety of roles besides her current one in the workforce department within the hospital. Her exceptional dedication to the organisation has allowed SASH to provide care to the local community for the last 50 years.



Angela Stevenson, chief executive of SASH, said:
"50 years' service is a remarkable achievement. It shows extraordinary dedication - H is a shining example of someone who has devoted their career to making sure our hospital can continue to provide the care on which local people rely. SASH - and the NHS as a whole - is very lucky to have people like H."
Hilda elaborated on her time at the trust and what this means for her:
"I first started my NHS journey in 1972 at Cane Hill Hospital and moved to SASH in 1986. I remember moving over here with the desks in the van from Mountview Drive to the new offices in Maple House (now trust HQ) in 1993 – before they had computers! I have worked in a variety of roles but my favourite have been in payroll as I love working with numbers. I have stayed in the NHS for 50 years because there is nowhere quite like it. You typically spend more time at work than at home and I am so grateful to work with my second family. The biggest difference is the use of technology has increased massively, we've gone from pen and paper to the majority of our processes being digital. I am so in awe of the amazing things my colleagues are capable of and it is so inspiring. Over the years my family and I have been so grateful to have received care on the NHS and so I like to think I have given something back."
Elizabeth Nyawade, chief of people and culture at SASH, said: "Take a bow, H! You've shown amazing dedication and you are an example to us all!"