It's been a very warm week and we have more to come next week and I am very grateful to all of you about how you have been dealing with that (sensible conversations, working through options and escalating when it needed escalating). The estates team are doing a great job with the air conditioning units, fans and repairs and are now involved in our four daily site team meetings to pick things up before you raise them up the line. Thank you again for your determination together to keep patients safe and colleagues as comfortable as possible. And, of course, the heat has coincided with a rise in COVID cases which complicates our work in numerous ways. Despite this I've witnessed people pulling out all the stops to keep our services running safely – and doing so with smiles and good humour. This extends to our colleagues in the ambulance service, with whom we've been working very closely. We're focussing on doing our bit to make sure ambulance crews are able to hand over patients to our teams as quickly as possible and I'm grateful for the continued work across our Trust to achieve this. Every part of our patients' time with us contributes to these efforts – minimising delays in each induvial element of their care has a knock-on positive impact on our ability to see new patients as quickly as possible.
One of our brilliant nurses, from intensive care - Stephanie Padilla-Madriaga – was featured in the Guardian on Wednesday. I'd strongly recommend you read the article (and the parts based on experiences of other people from other trusts recruited overseas and working in the NHS). Stephanie gives a very honest and powerful account of what it's like working in the NHS when you've trained overseas (including how we deal with things like dementia and how the health services in the Philippines do). Thank you to Stephanie for everything she does as part of our One Team and for sharing her story with such honesty. It's an important article and I urge you to take the time to read it. You can see the online version here (although anyone who saw the paper version will have noticed they got the name of our hospital wrong, but you can't have everything!).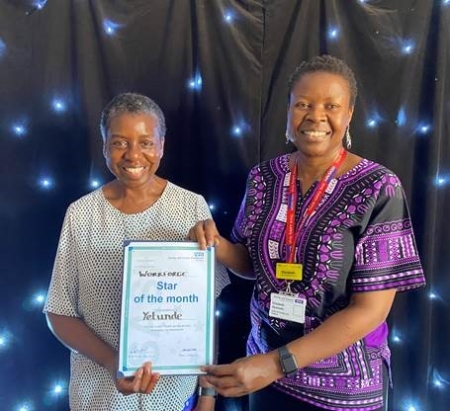 I was particularly delighted to hear that Yetunde Adebajo won the workforce star of the month earlier in the week. Yetunde was nominated for her #OneTeam approach and for the compassion she demonstrates in all she does. Yetunde has helped me out with some pretty tricky HR/pay issues that I've had to get involved in and she's made me look good each time. So, I think Yetunde is thoroughly deserving of the award and having her picture in this update.
I'm really pleased that we're working in partnership with organisations in Sussex to improve access to lung screening. It was announced today that people aged 55 to 74 living in Crawley, as well as Brighton and Hove, will be invited to an NHS lung health check over the next 18 months in a drive to improve earlier diagnosis of lung cancer and save more lives. As part of our involvement in the Surrey and Sussex Cancer Alliance, some of our colleagues have been involved in the planning that will see screening available in locations such as supermarkets. We'll also be reviewing the scans and have set up a multi-disciplinary team to make sure people get the care they might need after their screening. You can read more here.
You should now be aware that our eSASH go live is now very close. We go live in September and this week we started our hands on simulation sessions to give colleagues an opportunity to practice some of the normal tasks they will do using the new electronic patient record. Thanks to the eSASH team, who visited over 100 staff on Tandridge and Tilgate wards. There are more sessions to come over the next seven weeks and you can find these on SASHnet.
As we look ahead to next week we're doing lots of planning to make sure we look after everyone in the hot weather. We're doing all we can to make sure our services run as close to usual as possible. Our message to patients is that we will contact them directly if anything about their planned appointment needs to change. We know that some people might not be able to attend their appointments in the very high temperatures (the heat will affect many of our patients) – so I say to them, please look after yourselves and if you do need to change your appointment just let us know at the earliest possible opportunity.
Best wishes,
Paul Simpson
Deputy chief executive, chief finance officer and director of estates and facilities