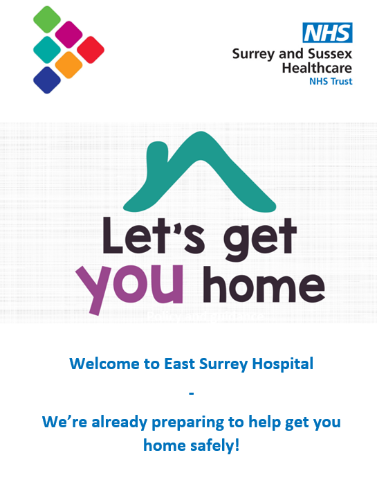 Surrey and Sussex Healthcare (SASH) have launched the Let's Get You Home initiative to ensure patients spend no longer than they need to in hospital. Download your inpatient Let's Get You Home handbook here.
This means supporting patients to return safely home, or if this is not possible, to a care home or supported housing once their treatment in hospital is complete.
Enabling patients to return to the community as soon as it is safe to do so is important for improving patient recovery and wellbeing, and ensuring hospital beds are occupied only by people who need to be there.
Being admitted to hospital is a serious decision, and our team in East Surrey Hospital will ensure that patients get the best possible care. Our team also knows that people recover better at home or out of hospital once their treatment is complete, and there is lots of evidence to support this. Did you know:
10 days in hospital leads to the equivalent of 10 years ageing in the muscles of people over 80?

Patients become less independent in hospital and less able to manage in their own home?

Hospital stays expose patients to risk of infections which they may be ill-equipped to resist?
Let's Get You Home ensures that:
Staff have conversations with patients about their discharge plan as early as possible, usually 24-48 hours after being admitted, and patients are given clear information about their options so they can be central to discharge decisions.

Health and social care teams work closer together to ensure patients have the right care and support they need to return home or an alternate community setting.

Where best for the patient, more assessments on people's long-term care needs take place outside of hospital, in their own home or community setting, where they can be assessed more accurately.
Let's Get You Home has been signed up to by system partners across the Surrey and Sussex system – all coming together to ensure the best outcomes for patients and enable East Surrey Hospital to prioritise those that need access to a hospital bed the most.