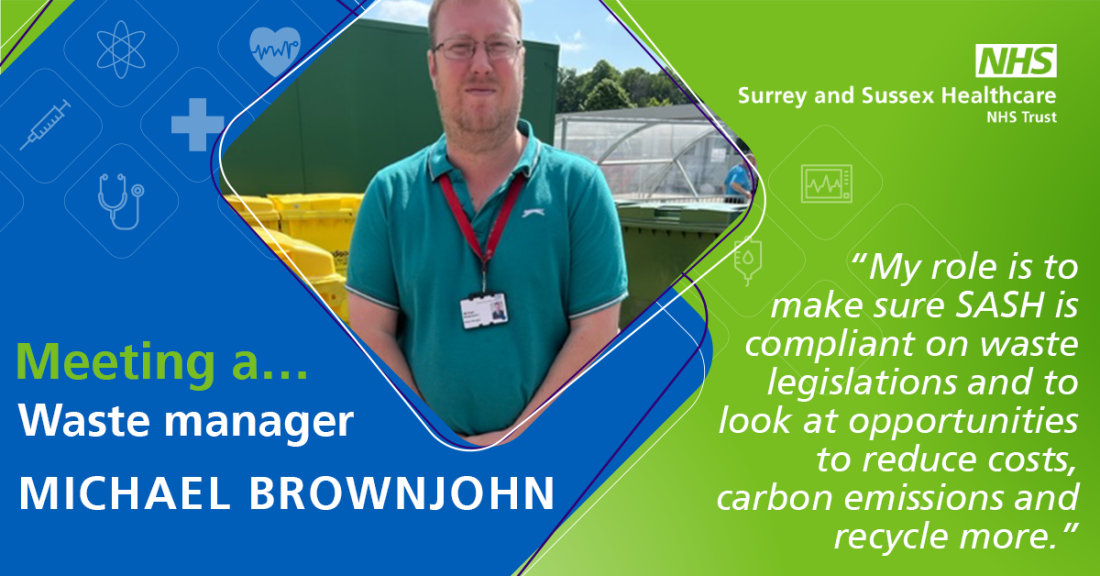 Who are you?
My name is Michael Brownjohn, I am the waste manager here at SASH. I've been in the role since April 2022 and before that, I worked in the portering department for 14 years, mainly on the night shift (which is why I look tired all the time).
Summarise your role.
My role as waste manager is to make sure SASH is compliant on waste legislations and to look at opportunities to reduce costs, carbon emissions and recycle more. This entails meeting waste contractors, doing waste audits on departments and managing the waste team of 10 waste technicians.
What do you find rewarding about your role?
Making cost reductions to our waste. Two examples of this are our Sharpsmart containers purchased last year, which made big financial savings and reductions to carbon emissions, and scrapping all metal at SASH to improve our waste budget.
I also enjoy talking to staff here at SASH who want help make a difference to waste reduction through methods such as recycling - it's always great to hear.
What do you find challenging?
The waste department was only formed in April 2022, so it's been a busy year for myself and the waste technicians throughout the change over, but we have still kept to targets and made savings in the department. I am very proud of my waste team.
It can be hard to make staff aware of waste legislation as many do not know about the correct waste segregation and impact of mixing streams. This is something I am trying hard to improve at SASH in 2023.
What do you enjoy outside of work?
Outside of work I like to watch football (Liverpool FC) and rugby (Saracens and England). I also enjoy playing golf, even though I always come last.
I also enjoy walking my puppy with my fiancée around the many beautiful areas in Surrey.