We returned after the bank holiday to a week which has seen lots of patients needing our care, with particularly high numbers arriving at the emergency department. My thanks go to all of our One Team for your determination to prioritise safety. Our partners are helping us keep safety and quality at the top of our agenda too – I really valued input from colleagues from Surrey social services and Surrey Heartlands ICS to our Safety and Quality Committee this week.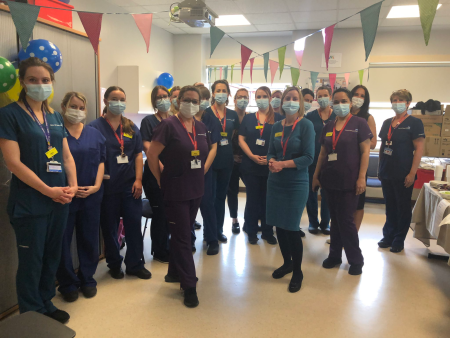 Yesterday we celebrated International Day of the Midwife and recognised the contribution of all of our brilliant midwives. While the theme was 100 years of progress, we looked even further back to how midwifery has developed since the 1500s when, incredibly, midwives were thought to be witches! I loved looking at our timeline of how far we've come since then. On the day we were thrilled to be joined by Josh and Jenny Callaghan, and their daughter Poppy who was born here nearly two years ago. Josh and Jenny were so grateful for the care they received that Josh and his friends rode 140km over the Downs to raise money for SASH Charity.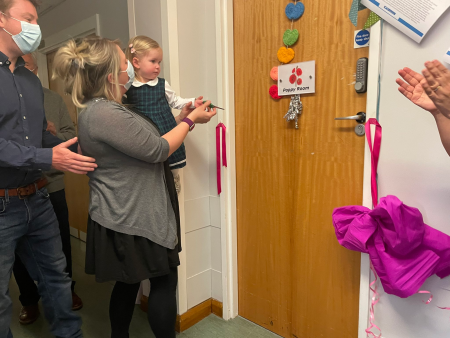 They raised over £3,000 which has helped us to create a new staff room which will be known as the 'Poppy Room'. It is decorated with a beautiful mural of a poppy field and we were delighted that Poppy herself helped us officially open it. SASH Charity has also helped us improve staff rooms at Horsham and Crawley Hospitals, and as part of our efforts to make it easier for colleagues to take breaks we're preparing to install more outside seating at East Surrey Hospital too.
There has been lots in the news recently about maternity services and I am very grateful to the team for leading our plans to respond appropriately to the Ockenden Review that many of you will have read about. Despite the review focusing on another trust in a different part of the country, it's important that all maternity services learn from the findings. We've already been implementing lots of the actions, have discussed our plans regularly at our Board and will continue to ensure we meet all of the requirements. I'm also pleased that we publish lots of key data every month on the SASH maternity social media accounts, giving local people assurance about our care.
Thanks to all of our colleagues who took part in our practice evacuation last week, and to those who organised the session. It's a crucial part of keeping patients safe.
I'd also like to thank Joseph Jacques, HSDU endoscopy supervisor, and the endoscopy team who dealt with an issue with our drying units yesterday, accessing stored scopes to ensure no patients had procedures cancelled.
This afternoon we said farewell to Bernadette Lee, senior resuscitation officer, who is retiring after a 40 year career in the NHS and nearly 30 years at East Surrey Hospital. Bernadette's expertise and knowledge has been invaluable to our organisation. She has had a hugely significant impact here - particularly when you consider the number of colleagues she has equipped with life saving skills during her time with us – and we'll miss her.
It's been Dying Matters Week, and the theme has been about what it means to be in a good place to die. Our palliative care team have been speaking with people across the organisation about it, because we know that opening up conversations about death helps us to make sure people have their wishes heard and understood. Colleagues can see photos of what some of our staff said on SASHnet.
Finally, I'm very grateful to all of our colleagues who managed the leak above one of our shops this morning; the area was cleaned and reopened very quickly. And good luck to all taking part in Run Gatwick this weekend, especially those fundraising for SASH Charity!
Best wishes,
Angela Stevenson
Chief executive