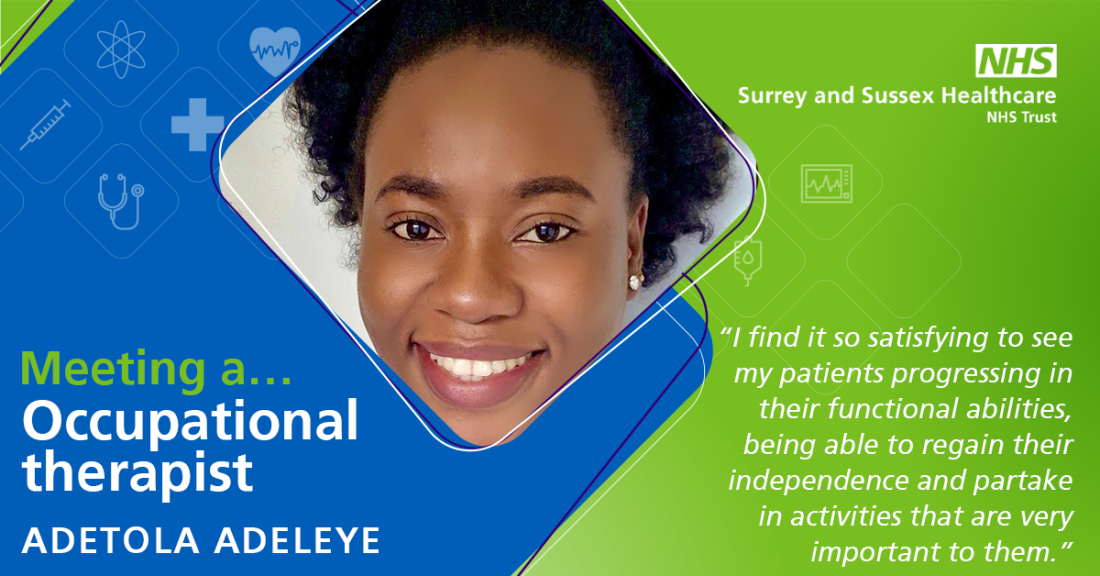 Who are you: Adetola Adeleye.
Summarise your role: As an occupational therapist (OT), I am mostly involved in assessing patients' functional abilities to engage in day to day activities like completing their personal care, dressing, meals preparation, toileting, medication management, shopping and more. I work with my patients to develop treatment plans using interventions, like task modifications and provision of equipment, with the aim of helping patients to be more independent, enjoy a better quality of life and live with as little or no restrictions as possible.
What do you find challenging about your role: The OT team staffing level is quite low compared to the demand for OT service. This results in increased workload and stress. Sometimes I have to work to a certain timeframe which can be frustrating as I feel I do not get the time I need to support patients in the way I am capable of.
What do you find rewarding: I love to help others and this is exactly what being an OT affords me to do daily. I find it so satisfying to see my patients progressing in their functional abilities, being able to regain their independence and partake in activities that are very important to them. The realisation that my effort makes a huge difference in others' lives gives me a sense of accomplishment. Even after a very busy work day I get to go home feeling fulfilled.
What do you enjoy outside of work: When I am not working, I love sewing and working on fabrics. I also love to cook, trying new recipes and spending quality time with my loved ones.