Hello everyone,
You might have seen Dr Natalie King, clinical director for emergency access and Mr Ian Maheswaran, chief of surgery, on BBC South East on Wednesday. It was the second anniversary of the first national lockdown and they were able to give their reflections on how it feels two years on. I felt proud listening to them speak about our work and how our whole One Team have worked together to keep people safe.
Throughout this period infection control has been paramount. We're of course seeing this come to the forefront again with over 100 people currently in our services with COVID. I'd like to shout out the infection control team who provide such important advice and guidance to people across our organisation, helping us to make complex decisions about how to prevent infection spreading. They have played a pivotal role in our response, providing expert guidance while operating under enormous pressure throughout.
It feels more pressured for everyone when we have high numbers of patients requiring our care, which is certainly the case at the moment. With such demand it's important that we do everything we can to get people treated as quickly as possible. I know our brilliant teams have loads of ideas for how we do this so over the next two weeks we're having a huge focus, using our SASH+ methodology to give people across our organisation the opportunity to make changes that they'd like to see in order to reduce delays for our patients. This is going to be a new way of us using our SASH+ work – you'll see lots of us out on the genba and I'm really excited by the potential to make some great improvements – you'll find out more about it all on Monday.
We know our SASH+ approach makes lasting improvements and we're keen to involve our local partners in this too. This week our KPO team completed the third of three kaizen training sessions for local GPs in Surrey Heartlands which is a great way of us sharing ideas, learning and working closer together.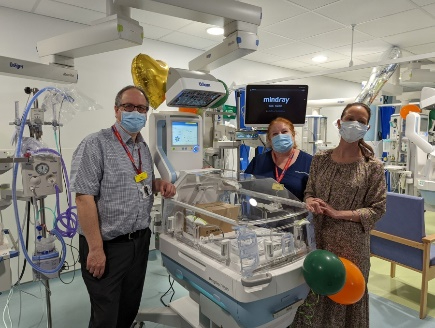 I was delighted to see yesterday's Surrey Mirror celebrating the delivery of two more incubators for our neonatal unit thanks to donations to SASH Charity's Olive's Appeal. The five incubators funded by the appeal enhance our modern unit. We're really proud of it because the facilities now match the outstanding skill of our team! A particular thank you to Keata Murray, Olive's mum, who has really helped shape the appeal in her daughter's name – it was great that she was on hand to deliver the two incubators to the unit. You can read more here.
Congratulations to our research team who have been shortlisted in this year's Pharma Times International Clinical Researcher of the Year Awards. We're shortlisted in the category for best Clinical Site Team which assesses teams' ability to deliver excellence in the setting up and conducting of research trials. The winners are announced on 19 May – fingers crossed!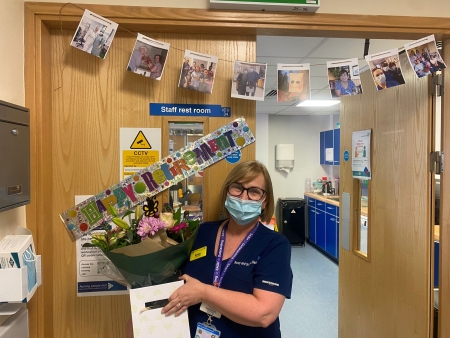 Today we said farewell to two of our sisters in the surgery division. Sonja Monnery from critical care joined our organisation in 1996 and has worked at Crawley and East Surrey hospitals. Working most recently as senior sister, her colleagues describe her as a pillar of the critical care team and an excellent role model whose professional and clinical judgement will be greatly missed. Pam Hunt has worked with us since 2012. Pam has been our theatre sister in general surgery and a fantastic lead on dental surgery. I know her colleagues will miss her wicked sense of humour and are hugely grateful for her dedication and service. I wish Sonja and Pam all the very best for the future.
Have a good weekend; I'm hoping the great weather continues and you get to enjoy some sunshine and some family time on Mother's Day.
Best wishes
Angela Stevenson
Chief executive