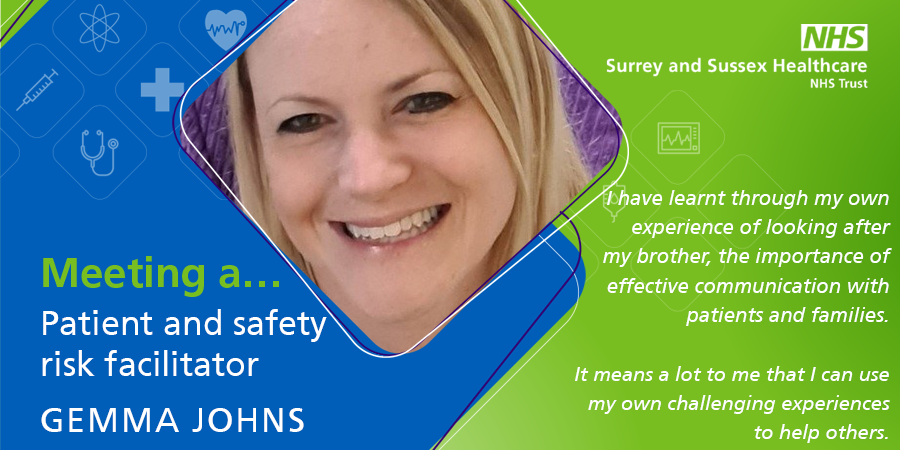 Gemma is a patient and safety risk facilitator as well as a carer for her brother. This carers week, Gemma shares how her role in looking after her brother helps her to do well at work.
Who are you?
Gemma Johns
Summarise your role.
I work in corporate patient safety and risk, where the emphasis is on preventing and reducing patient harm by learning from incidents, analysing data and developing effective risk management.
I am also an unpaid carer for my older brother, who has learning disabilities, autism and challenging behaviour. He lives in residential care, however I am heavily involved in his day-to-day supervision, and in decisions relating to his health and social care needs. My husband and I are his advocates and 'designated individuals,' who work in partnership with the care home to provide the best possible support for my brother. Together, we have a very strong family-centred approach to his care.
What do you find rewarding?
I find it rewarding when I can support someone going through something traumatic. In my current role this involves assissting patients and families find answers to difficult situations or events, supporting them through challenging periods in their lives. I have learnt through my own experience of looking after my brother, the importance of effective communication with patients and families. It means a lot to me that I can use my own challenging experiences to help others.
What do you find challenging about your role?
I enjoy my role at work. Occasionally I find it challenging when I know there is more that could be done to support our patients and their families, but there are often very real restrictions and limitations preventing us. It can be hard to find the right balance between work and personal life, with the hardest challenge being finding the time for myself to relax. My weekends are spent focusing on our daughters' swimming lessons, activities and parties, and looking after my brother. We spend a day each weekend doing something with my brother, which can be draining. On a day-to-day basis my husband and I are constantly communicating with my brother and his carers. Any change with him needs careful planning and thought, and his challenging behaviour can be destructive, so there is a lot of dealing with and managing his behaviours and incidents.
I have a very supportive line manager who understands these challenges and provides me with support when I need it, especially in regards to my brother.
What do you enjoy outside of work?
I enjoy spending time with my husband and two daughters and we love being outdoors. I have my own cake businesses as well, and the creative side of this is very therapeutic for me.