Last Friday 4 February staff at Surrey and Sussex NHS Health Trust, patients and their families marked World Cancer Day with a variety of activities taking place across East Surrey Hospital. Headed up by members of SASH's cancer team, the aim of the events were to raise awareness of the services available at the Trust, celebrate the brilliant work that SASH's staff do to enhance patients' experience and to raise money for SASH Charity's cancer fund – all small steps towards creating a cancer-free world.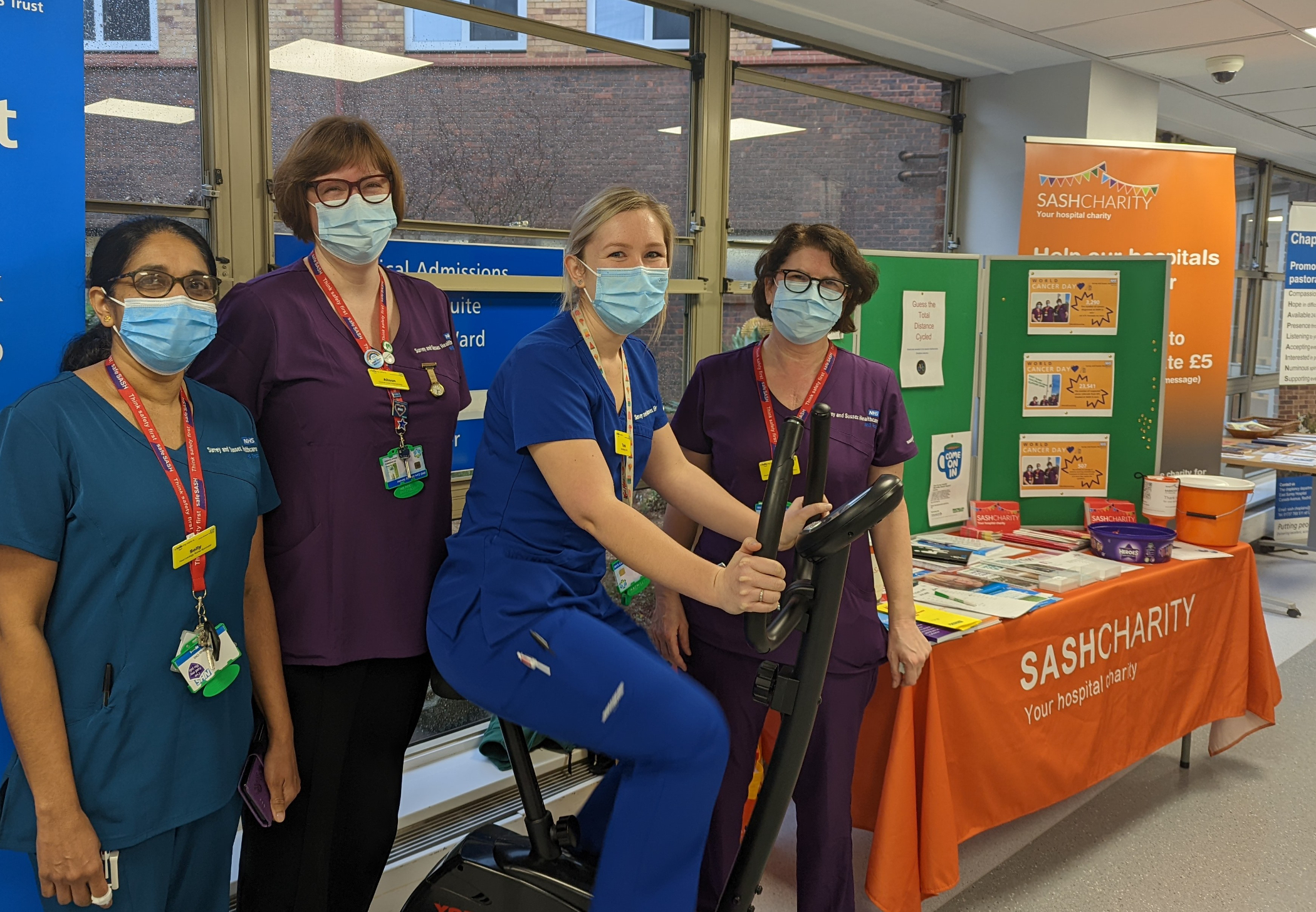 Throughout the day the SASH cancer team hosted a stand at the hospital's east entrance, which featured informative collateral and goodies. SASH colleagues including chief of nursing and midwifery Jane Dickson and chief medical officer Dr Ed Cetti were part of the team who took it in turns on an exercise bike over a nine-hour period. Those passing by were encouraged to guess the distance the team travelled throughout the day in exchange for a donation to SASH Charity's cancer fund. Staff in the hospital's onsite WHSmith also joined in to mark the occasion by supplying sweet treats to patients on the wards, worth £50.
The calendar moment provided the ideal opportunity to shine a light on the outstanding work of the Trust's cancer nurses. On social media Rebecca James, Nicola Vanner and Alison Costain introduced themselves to staff and followers in the SASH wider community. Chemotherapy suite manager Claire Williams, was presented the 'Claire is a star' award by Jane Dickson in recognition of her endless commitment to her patients, their loved ones and her colleagues.
Information from the NHS in the South East shows that a record number of people across the region came forward for cancer tests towards the end of last year, with referrals in November being higher than previous years. However, the NHS is urging other potential patients to come forward so that they are not struggling in silence.
In 2021 SASH's cancer team:
treated 23,541 cancer referrals from GPs
diagnosed 3,290 cancer cases (an 11% increase on 2020)
treated an average of 507 patients every month for chemotherapy (25% more than in 2020).
By the end of World Cancer Day, colleagues at the Trust had cycled a distance of 252km, which is the equivalent of biking to Torquay in Devon! The figure was guessed correctly by Char Fletcher, another member of the cancer care team, who will win a prize.
The fundraising event secured a grand total of over £400 from cash, card and online donations, which will provide additional equipment to help the hospital's services go further for local patients.
Rebecca James, divisional chief nurse at SASH, said:
"It was so wonderful to see everybody pulling together to raise awareness of such an important message this World Cancer Day and the whole department is delighted that the day's events were a success. Over the next year we'll be looking at positive ways to improve cancer care here at the Trust, so it's good to know we have the support of all our colleagues behind us as we make these changes."
Head of SASH Charity, Andrew Bickerdike, said:
"I'm thrilled that the World Cancer Day fundraising event went so well. As we were raising money for SASH Charity's cancer fund, the team will be able to see the direct results of their cycling efforts through purchases of important new equipment for their wards, such as chemotherapy chairs that help make patients feel more comfortable while they receive their treatment."
Make a donation to the World Cancer Day fundraising initiative.
If you think you are experiencing symptoms of cancer, speak to your GP.