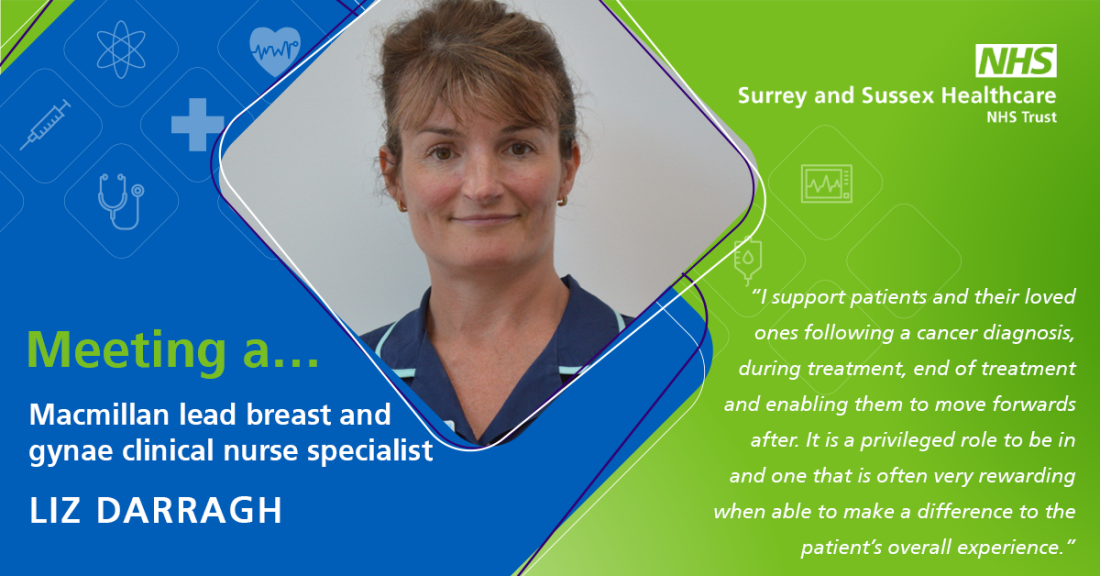 Who are you?
Liz Darragh – Macmillan lead breast and gynae clinical nurse specialist.
Summarise your role.
I have always had an interest in women's health and have been in oncology nursing since 2004 after many years in general gynaecology. My current role has many dimensions and involves leading our established Breast and Gynae Clinical Nurse Specialist nursing teams. I have an interest in service development and a long-standing interest in nurse led services. I support patients and their loved ones following a cancer diagnosis, during treatment, end of treatment and enabling them to move forwards after. It is a privileged role to be in and one that is often very rewarding when able to make a difference to the patient's overall experience. I Chair the Network Breast Clinical Nurse Specialist group which is rekindling following COVID so am excited about working collaboratively with them to improve our services.
What do you find rewarding about your role?
Making a difference to the patient's overall cancer experience, service development and working with good multi-disciplinary teams.
What do you find challenging?
Supporting patients who choose not follow medical advice and respecting their decision when knowing this will have an impact on their overall prognosis. Supporting patients whilst waiting for their pathology results as they are now taking longer than usual. Not having enough hours in the day!
What do you enjoy outside of work?
Spending time with my family and friends, walking my dog (a cockapoo) called Bear, holidays, good wine and eating out.