We know how important it is for patients to be able to see relatives, friends and carers, so we're doing all we can to make this possible while keeping the risk of infection to a minimum.
Visiting restrictions remain in place and this page has all of the detail about what this means for you.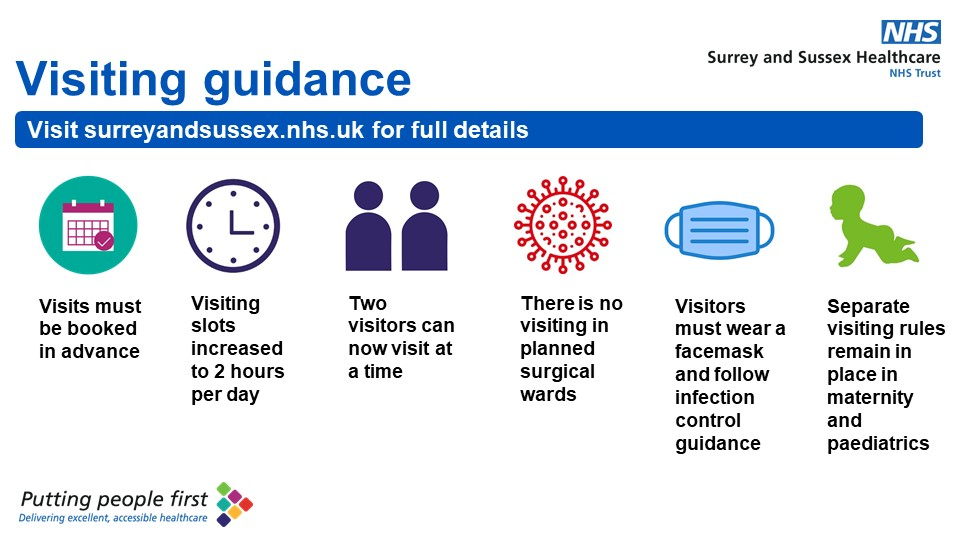 We will facilitate one visit a day, for two hours, between 11am and 7pm.
Two visitors can visit at any one time.
The time of the visit must be agreed and booked in advance.
In exceptional circumstances, extensions to these arrangements should be agreed by the team in charge of the patient's care. For example, for patients at the end of their life, and for people with dementia, delirium, a learning disability or a mental health need.
There is still no visiting (except for exceptional circumstances) in our wards caring for people having planned surgery.
Follow the guidance in the tab below to book a visit.
We are sorry that there is currently no visiting to our planned surgical wards, except for exceptional circumstances.
Exceptional circumstances include patients at the end of their life, and those for whom the presence of a visitor is essential for their care such as people with dementia, delirium, a learning disability or a mental health need.
For patients being assessed in our acute medical unit (AMU) or surgical assessment unit (SAU)
Visiting appointments for these departments cannot be booked via the visiting line. Please contact the department directly to discuss visiting arrangements.
Visiting appointments for these departments cannot be booked via the visiting line. Please contact the department directly to discuss visiting arrangements.
All women/visitors should be vigilant for signs/symptoms of COVID-19 infection and to test accordingly.
We happily welcome birth partners to every aspect of a woman's care.

We will continue to limit visiting to 1 person at a time in the ward environments, and 2 birth partners in an intrapartum setting;

General inpatient visiting hours will be re-introduced 11-8pm with only 1 person per bedside at any one time;

Extended visiting for one birthing partner has been reintroduced until 23:00 hours. We continue to gently encourage supportive persons to take rest at home overnight in circumstances where women do not require additional support;

Visiting for children (siblings) on the postnatal ward is welcomed between 4-6pm;

Parents should be asked to consider alternative options to bringing children to their outpatient appointments, but should be supported in their choice if children are required to attend with them.

Women are encouraged to check with their healthcare provider in community settings as GP surgeries may have their own guidance.
Please see our maternity pages for more details.
Two parents / carers can be with each child (we are sorry that currently no siblings are allowed)
Neonatal unit: Both parents / a carer for a baby
Fixed hearing loops are available at East Surrey Hospital in all main reception areas. Patients are able to request from our members of staff a portable hearing loop for use in clinic rooms when attending outpatient appointments.
Please do not enter our buildings if you or anyone in your household is COVID-19 positive, has coronavirus symptoms, such as a continuous cough, a temperature or loss of taste / smell, or is a contact of COVID-19.
The time of your visit must be booked in advance.
You can book a visiting appointment by phoning our dedicated visiting line on 01737 304184 between 09.30 – 16.30 Monday to Friday or the ward that you wish to visit between 09.30 – 16.30, seven days a week.
You will be informed in advance about what to expect when you see your loved one and you will be given practical advice about social distancing, wearing personal protective equipment and handwashing. Please follow advice regarding personal protective equipment (PPE) from our staff at all times during your visit.
You must clean your hands with the alcohol gel or at the sinks provided when entering and leaving the hospital and the ward.
Visitors must wear a face mask at all times when in the hospital. Further details on face coverings are available here. When you enter the ward, you will be asked to wear a surgical face mask and you may also be asked to wear additional protective clothing, such as an apron or gloves.
You should bring as few bags, coats and other loose belongings with you as possible.
You must stay at least two metres away from other people at all times.
If you have been wearing a disposable face mask, you must put it in the bin provided as you leave the hospital.
Find out where to get a lateral flow test:
Check the Government website for all the latest information
All the details about Surrey's asymptomatic tests are available here.
All the details about West Sussex's asymptomatic tests are available here.
To help us to reduce the spread of infection at East Surrey Hospital, security guards are working with us at the hospital entrances to manage the safety and flow of people entering the hospital. If you are coming for an outpatient appointment, we ask that you bring your appointment letter with you to show the security team. Thank you for your continued patience and understanding.
While visiting restrictions are in place, we have set up an email address so you can email us with your messages. We'll write them up and deliver them to your loved ones.
Please make sure to include the patient name and ward in your email to sash.patientmessages@nhs.net.
If you would like to do a video call with a loved one who is in hospital, we have people on hand to help organise it. Please contact the ward directly and they will be able to help facilitate the video call. Information about our wards can be found here.