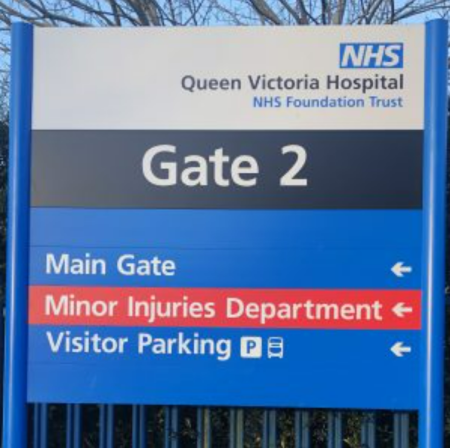 'Help us help you' – minor injury unit at Queen Victoria Hospital available for those with minor illnesses and injuries
Due to the significant ongoing pressure on local NHS services, a critical incident has been declared across health services in Surrey Heartlands. Our services continue to be very busy and we are seeing record numbers of people attending A&E.
The public can help us manage this period of demand by ensuring they are seeking help from the most appropriate health services, and only attending A&E for serious accidents and life-threatening emergencies. The minor injury unit at East Grinstead's Queen Victoria Hospital is available for those needing assessment and treatment of a wide range of minor illnesses and minor injuries in adults and children over the age of one.
The unit is run by well-trained emergency practitioners and experienced specialist nurses and paramedics who will be able to help with conditions such as:
Acute limb injuries including fractures, wounds, sprains and strains

Bites and stings

Chest infections (adults only)

Cuts and grazes and wounds

Ear and throat infections

Foreign bodies in the eyes, ears, nose

Sore throats

Acute lower back pain

Minor allergic reactions

Minor burns and scalds

Minor head injuries with no loss of consciousness (anyone aged over 65 years may be referred to A&E for further assessment and management)

Nose bleeds

Simple eye infections such as conjunctivitis or scratches to the eye

Simple urinary tract infections (UTI) (females aged 17 or over, who have not had a UTI in the last three months).

Skin infections

Suspected arm and lower leg broken bones (children under the age of four should be taken to A&E).
The unit is open every day from 8am to 8pm. An appointment is not required. The unit is located at Queen Victoria Hospital, Holtye Road, East Grinstead, RH19 3DZ. You can contact the unit on 01342 414000.
Click here to see the other alternative services which are there to be used when you feel unwell. Help us keep the emergency department free for patients with serious and life-threatening conditions.