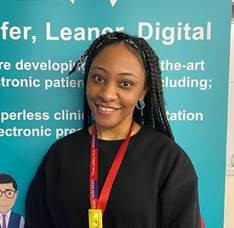 Black History Month takes place every October. Black members of SASH staff are taking part by sharing their case studies.
Marie Jean-Louis, learning and development administrator
Why did you join the NHS?
I'm always passionate to work for an organisation with such a wide reach.
Tell us about your NHS journey.
I started working in the NHS as a volunteer at Crawley hospital, an then applied for a permanent job in the learning and development team after six months. I've been at SASH for nearly five years now. During my time at SASH I have held different positions, in the learning and development team, administration and advising and also worked for the digital team and workforce engagement team.
Describe your proudest moment (work or otherwise).
Being nominated for an award for completing my learning an development apprenticeship.
What does Black History Month mean to you?
Supporting and recognising the achievements of Black people, the culture and celebrating our people.
What makes you proud of your culture and heritage?
How much we have overcome as a community.
What is one thing from your culture / heritage that you cannot live without?
Boulettes - this is a Mauritian dumpling that is very unique to mauritius. And the music.