I want to begin by saying thank you to all my colleagues both at SASH and across the wider system who continue with preparations ahead of the jubilee weekend. We know this is usually a time where there is high demand with lots of patients needing our care, so we are working closely with all system partners to ensure that those patients who no longer meet the criteria to reside in our hospital beds are discharged to the most appropriate setting, ideally back to their usual place of residence.
I know those of you who work in our elective services will know just how many patients we have on our waiting lists needing our care, and how much these numbers have grown over the past two years. This is certainly the case for endoscopy and angiography, areas that we have been using for emergency overflow when we run out of beds in the hospital. These teams have seen their waiting lists grow significantly over the last six months, so I want to take a moment to share my gratitude with my colleagues working in these areas for their understanding and commitment to maintaining safety across the hospital.
Speaking of our busy emergency department, this week we celebrated Acute Medicine Awareness week. I'd like to give a shout out to our fantastic team in this specialty. They are experts at providing the first 48 hours of medical care and provide a crucial service to a growing number of patients every year. In amongst the recent pressures, the team has seen nearly 7,000 patients and 1,350 follow-up patients, delivering same-day emergency care, allowing them to go home without the need to be admitted. The team have been going above and beyond throughout the pandemic and I'm very grateful. It struck me listening to colleagues this week that we need to try and get our teams back to doing the things they really enjoy such as teaching, grand rounds and sharing some food together.
On Wednesday I attended a really productive session on our waste reduction action programme (WRAP). It was a very positive session with our clinical leads, general managers, divisional directors and the executive team, who came together to raise awareness around the financial challenges we are currently facing and to generate ideas on opportunities to reduce waste. Many great ideas were discussed and we identified a range of tasks that we can deliver. Looking forward, there will a follow-up WRAP session in three weeks' time with a focus on developing those tasks. It was really encouraging to see everyone working together to tackle the problem with such positive energy.
Continuing to improve what we deliver is key. Well done to the team on the SASH+ Rapid Process Improvement Workshop (RPIW) who have spent the week focussing on the shift nursing handover on Woodland ward. The team reviewed the process, generated and tested over 70 ideas using 'Plan, Do, Study, Act' (PDSA) cycles, which has led to a reduction in handover length and increased patient involvement. Congratulations to all involved including the entire Woodland ward team who have embraced and contributed to lots of change over the week.
This week we're also celebrating our staff 'trial-blazers' who have made significant contributions in supporting clinical research at SASH. I'd like to say thank you to the research participants that give their time and energy to take part in trials and the staff who provide opportunities for their patients to get involved.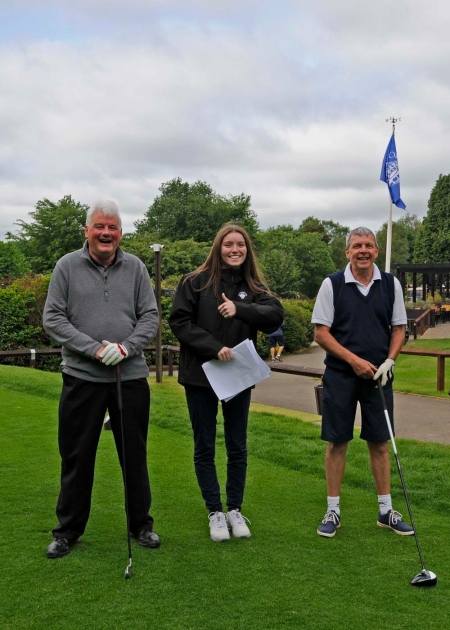 Yesterday was SASH Charity's first ever charity golf day and what a success it was! The event took place at the 18-hole Championship golf course, Kingswood Golf Course, with 48 golfers, including four teams of SASH staff. Congratulations to Mark Pain from Santander and his team for winning. Just under £3500 was donated before the event even took place, and the day was kindly supported by Santander Consumer Finance. The funds raised from the golf day will go towards improving two overnight rooms for parents of premature babies from Surrey and Sussex, as well as helping to refurbish the chemotherapy suite at East Surrey Hospital. You can see some photos from the day on the charity social media feeds (@sashcharity). On top of this, I am pleased to announce that the mayor of Reigate and Banstead has chosen SASH Charity to be his charity of choice for the year, which we are delighted about. Looking forward, SASH Charity is uniting with other NHS Charities in Sussex along with Heads On for Walk for Wards. If you'd like to walk, run or jog for SASH Charity at the beautiful Glynde Estate, and raise vital funds for SASH, click here to register. Find out more on the charity website.
Best wishes
Angela Stevenson
Chief executive