Surrey and Sussex Healthcare NHS Trust (SASH) has completely phased out the use of the anaesthetic gas desflurane as of today (1 February 2023).
This comes following NHS England's pledge to phase out desflurane by early 2024.
Across the NHS, anaesthetic gases are commonly used as a part of everyday surgeries.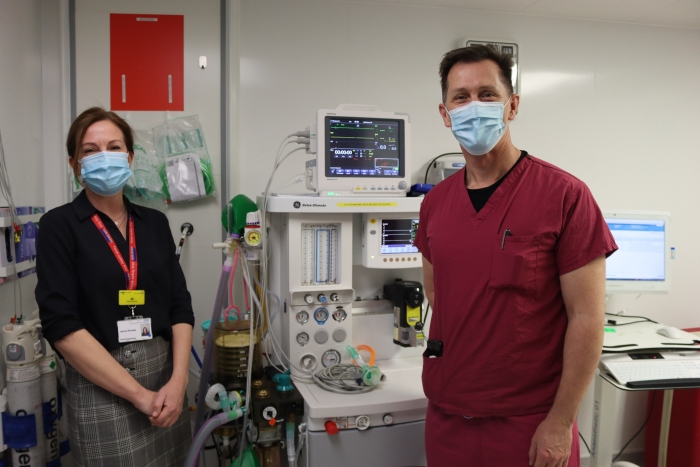 Amongst anaesthetic gases, desflurane is one of the most common, but also one of the most environmentally harmful. It has 20 times the environmental impact of other less harmful greenhouse gases and using just one bottle has the same global warming effect as burning 440 kg of coal or driving 3,200 miles in an average car.
2% of the NHS carbon footprint comes from anaesthetic and analgesic practices. The NHS Long Term plan commits to lowering this by 40% by "transforming anaesthetic practices" such as using alternatives to desflurane.
Jo Rhodes, chief pharmacist said:

"I am really pleased to say that from 1 February 2023, we have completely ceased the use of desflurane across the Trust. Through combined efforts to reduce the environmental impact of medical gases, we are aiming to play our part in the NHS plan to achieve a reduction of 306 tonnes of carbon dioxide equivalent by 2025, which is comparable to driving just over a million miles.

"In addition to phasing out the use of desflurane we are developing plans to reduce the environmental impact of other anaesthetic gases such as sevoflurane and nitrous oxide through the introduction of scavenging technology, as well as switching metered dose inhalers to dry powder alternatives."
Phasing out desflurane across the NHS will reduce the national carbon footprint by 40 kilotonnes of carbon per year – which is equivalent to powering 11,000 homes for a year.
Angela Stevenson, chief executive officer said:

"We are committed to doing all we can to reduce our carbon footprint as quickly as possible. This is an excellent example of the actions colleagues are taking across the organisation. I am delighted that we are no longer using or ordering desflurane which is so harmful to our planet."
This national commitment to phase out desflurane supports the pledges made within SASH's Green Plan to meet the NHS's collective goal of delivering a net zero health service by 2040.