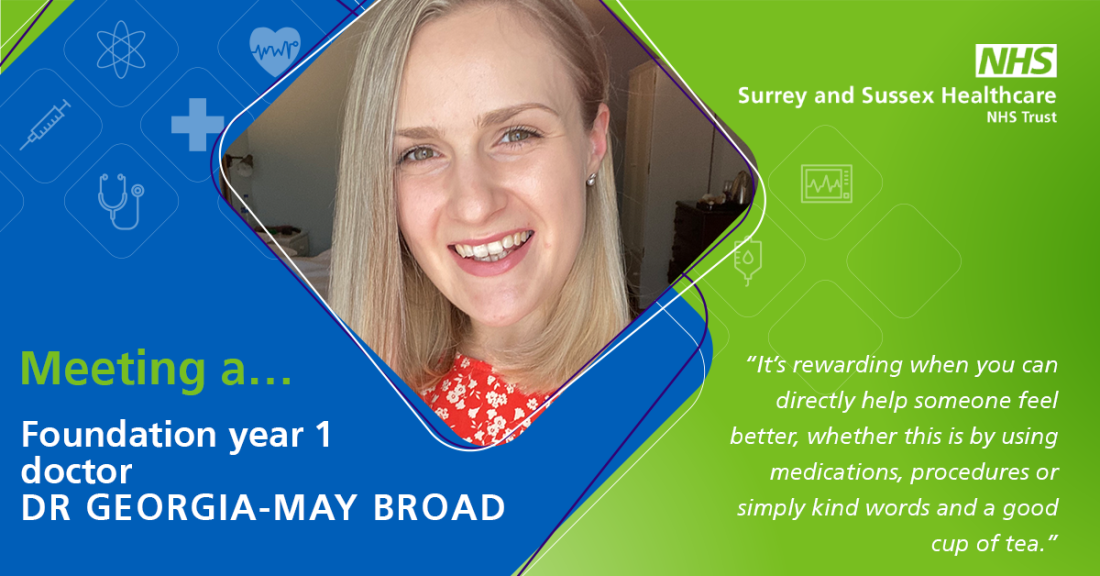 Who are you?
Dr Georgia-may Broad, foundation year 1 doctor.
Summarise your role.
I am a doctor in my first year of post-graduate training, this means I rotate between departments every four months to help develop the breadth of knowledge and experience required to be consultant in the future. You'll catch me doing an array of tasks – from attending medical emergency calls and seeing patients in ED to requesting tests, writing discharge summaries and prescribing medicines.
What do you find rewarding about your role?
It's rewarding when you can directly help someone feel better, whether this is by using medications, procedures or simply kind words and a good cup of tea.
What do you find challenging?
It can be difficult rotating between departments so frequently as it's a bit like starting a new job every four months– by the time you feel settled within the team, it's time to move on again!
What do you enjoy outside of work?
I enjoy walks in the countryside, cross-fit classes, baking and travelling.
Any advice for new FY1s?
Be kind to yourself and others. FY1 can feel like a rollercoaster at times with very high highs and lows that will find you crying in the doctors' mess loos. The pals you make will get you through and, if you're like me, you'll be amazed at just how far you've come by the end f the year without even realising it. Also, ask all of the questions and never be afraid to get help if needed.
Any farewell messages to FY2s?
Good luck! I hope your onward career is everything you want it to be.