SASH sits at the heart of the community and plays a significant role in people's daily lives, including SASH staff, patients and members of the public.
Our role is to ensure that all of 'our people' have equal access to fair and inclusive services and opportunities. We are committed to the elimination of discrimination, in reducing health inequalities, promoting equality of opportunity, dignity and respect for all our patients, service users, their families, carers and our staff.
Our 4,900 staff serve a population of around 535,000 people living, working and visiting east Surrey, north-east West Sussex, and south Croydon, including the towns of Crawley, Horsham, Reigate and Redhill.
At SASH we strive to have inclusion at the heart of everything we do, as we realise the importance of having a workforce that feels like it belongs, to enable and ensure our staff are able to provide the best care for our patients.
Surrey and Sussex Healthcare NHS Trust is committed to ensuring the NHS Constitution is alive in the organisation. By adhering to its principles and our own organisational values of 'One Team' and 'Dignity and Respect' we will work proactively to ensure that our staff and patients receive equal care, equal opportunities, and an outstanding experience during their time with us.
In order to comply with the Public Sector Equality Duty SASH reports its workforce diversity data on an annual basis to support staff experience and reduce inequalities in the workplace.
SASH is engaged in the work around the Workforce Race Equality Standard (WRES) that was launched in April 2015 and the Workforce Disability Equality Standard (WDES), launched in 2018. We are working closely with a number of internal and external stakeholders to embed the WRES and WDES in all we do at SASH.
Our workforce inclusion journey so far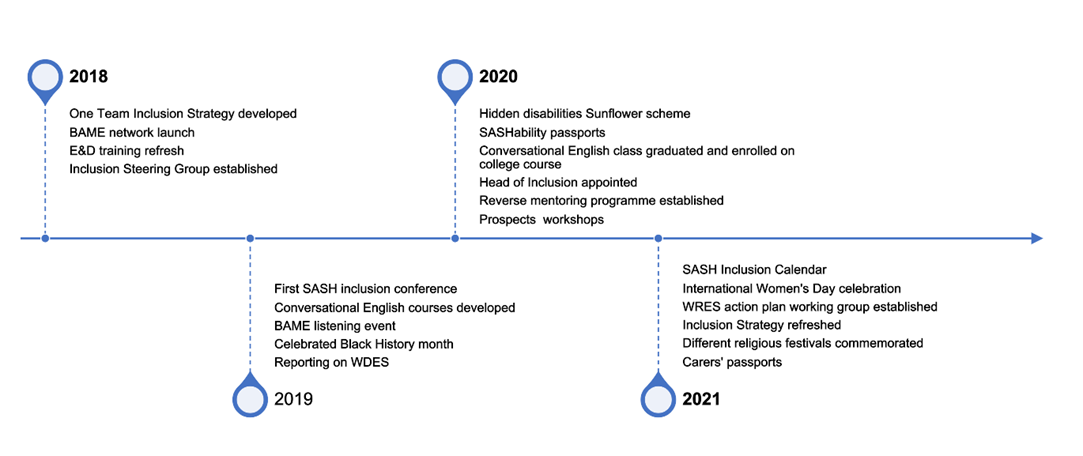 2018
One Team Inclusion Strategy Developed
BAME network launch
E&D training refresh
Inclusion Steering Group established
2019
First SASH inclusion conference
Conversational English courses developed
BAME listening event
Celebrated Black History month
Reporting on WDES
2020
Hidden disabilities Sunflower scheme
SASHability passports
Conversational English class graduated and enrolled on college course
Head of Inclusion appointed
Reverse mentoring programme established
Prospects workshops
2021
SASH Inclusion Calendar
International Women's Day celebration
WRES action plan working group established
Inclusion Strategy refreshed
Different religious festivals commemorated
Carer's passports
Have you spotted our NHS rainbow badges?
You may have seen some of our staff wearing NHS rainbow badges. The badges are just one way to show that we are an open, non-judgemental and inclusive place for people that identify as LGBT+.
LGBT+ stands for lesbian, gay, bisexual, transgender and the + simply means that we are inclusive of all identities, regardless of how people define themselves.
If you see someone wearing a badge, you can ask them about it. The badge is a reminder that you can talk to our staff about who you are, be open about your identity and how you feel. They will do their best to get support for you if you need it.
About the Rainbow Badges initiative
The Rainbow Badge initiative originated at Evelina London Children's Hospital to make a positive difference by promoting a message of inclusion.
A recent Stonewall survey (published November 2018) stated that lesbian, gay, bisexual and transgender (LGBT+) patients face inequalities in their experience of NHS healthcare. The survey estimates that one in five LGBT+ people are not out to any healthcare professional about their sexual orientation when seeking general medical care, and one in seven LGBT+ people have avoided treatment for fear of discrimination.
We believe that people who work in healthcare can play a key role in making things better.
To begin to increase awareness of these issues, and to help improve the experiences of healthcare for LBGT+ patients, many of our staff wear NHS rainbow badges.
Supporting our patients and visitors
At SASH we are committed to improving the experience of patients and visitors accessing our services. In support of our Inclusion Strategy, we have launched the Hidden Disabilities, Sunflower Scheme at SASH.
The Hidden Disabilities Sunflower Scheme was introduced by Gatwick Airport in 2016 to support customers with hidden disabilities to be able to access and receive the help and support they require.
As part of the scheme anyone living with a hidden disability can wear a sunflower product as an indicator that they may need additional support or a little more time during their visit to the hospital, whilst preserving their dignity and respect. Patients and visitors with hidden disabilities may not be identifiable to all staff and the scheme will help us to offer a valuable method of being able to provide those with hidden disabilities the best experience and access to care.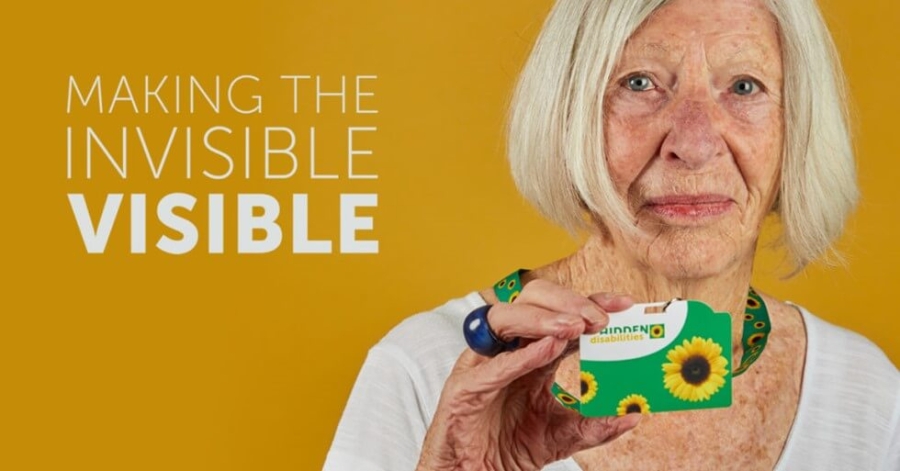 Hidden disabilities don't have physical signs and include; learning difficulties, mental health, mobility, and speech, visual or hearing impairments. They can also include asthma, COPD, and other lung conditions as well as chronic illnesses such as renal failure, diabetes, and sleep disorders when those diseases significantly impact day-to-day life. The products are bright green in colour and decorated with a yellow sunflower design, so they can be seen clearly from a distance, ensuring that everyone is visible when they need to be.
Support for our staff
We pride ourselves on delivering safe and high quality care to all our patients. We are also committed to ensuring that all our staff and volunteers are supported to thrive in their role at the Trust. To do this, we encourage colleagues with hidden disabilities to wear a sunflower pin badge.
Find out more information about the Sunflower Scheme, on the Hidden Disabilities Store website.
List of pages