It has been another very busy week with lots of patients requiring our support. We don't just turn up and see what happens and this bank holiday was particularly notable for how our planning turned out in reality. A huge thank you to the site team and on call managers and everyone who did that planning and then worked so hard over the bank holiday weekend. You not only kept our services going, but we saw some really impressive performance. On all three days over the weekend more than eight out of every ten patients who came to the emergency department were either admitted or discharged in under four hours. Whatever you may read in the papers, our patients appreciate our efforts. One grateful husband posted on social media:
"My wife was rushed to @sashnhs today. Although it's taken until gone midnight to be diagnosed (arrived 13.30) with appendicitis with surgery ASAP. The staff as ever amazing in A+E. @SECAmbulance v quick and good also! Thank you!"
There has been a steady reduction in COVID prevalence in recent weeks and as a result, new national guidance was issued about some of our infection control measures. From yesterday (Thursday), only staff in some high-risk areas are required to test themselves twice a week with lateral flow tests when they do not have symptoms. We've also made mask-wearing in non-clinical areas a personal choice and we have reviewed how we manage patients as they come into the hospital and go to wards. We'll be keeping these measures under careful review in the coming weeks, but it will also increase our capacity. Everything is a balance: the management of a serious and infectious pathogen means protecting staff and patients with extra steps in our pathways, duplication from 'hot' and 'cold' streams and time taken to identify who goes where. Removing most of that makes it faster and easier for patients to move through the hospital… which is what creates capacity, allowing us to manage demand coming to the Emergency Department.
It's also a sad day today. Today is Liz Berry's last day at SASH. Liz started at the Trust in 2004 as histopathology operations manager. She has been the head of service for cellular pathology since 2015 and has been an integral part of the leadership of our pathology services. These services are so fundamental to what we do and Liz has played an enormous part in developing them here at SASH, allowing us to join Berksire and Surrey Pathology Services in the way that we have. I don't know why, but she has often been the person I've talked to in sorting something out… which she has always done with deceptive calm and ease. I will miss her, and I am extremely grateful for her contribution. I am sure all of you will want to wish her all the very best for the future.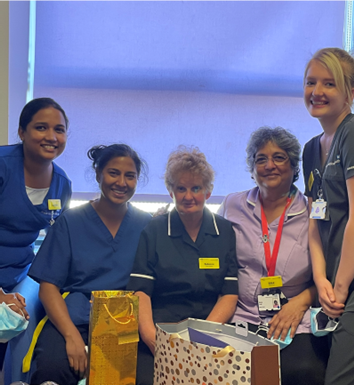 More sadness, we also said farewell to Rebecca Greenway who has been a ward hostess, most recently on Brockham Ward, for 26 years. Rebecca retires this week and she will be greatly missed by her houskeeping colleagues and her team on Brockham Ward. She is caring and respectful, and her dedication has extended to volunteering too. Rebecca, we wish you a very happy retirement and thank you for all you have done for our Trust.
There are just two weeks until our eSASH go-live. Please remember, it's crucial to do your face-to-face training as well as the e-learning. Some of you may already be familiar with Cerner from other hospitals or from SASH, but this is a significant upgrade – you need to practice how to use it with our instructors and fully understand how what you do is important to colleagues receiving patients as they move through the hospital. Please book in now if you're yet to do so!
Finally, I hope many of you will be off to Flower Farm at some point over the weekend. Our Big Thank You event is a great opportunity to relax with friends, family and colleagues. It's not too late to get a ticket if you want one – you can buy them here.
Best wishes
Paul Simpson