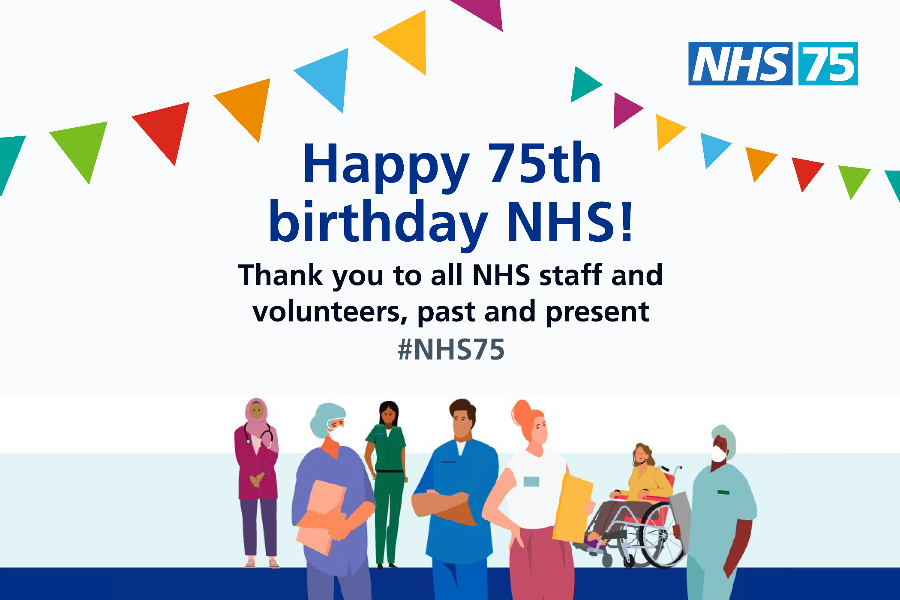 To mark the NHS' 75th birthday, members of staff from Surrey and Sussex Healthcare NHS Trust were invited to join hundreds of other NHS staff at a special service of commemoration at Westminster Abbey.
The service, held on Wednesday 5 July, was also attended by their Royal Highnesses the Duke and Duchess of Edinburgh, senior government officials, political leaders and key figures in the health and social care sector, and included an address by NHS Chief Executive Amanda Pritchard.
Five members of staff from SASH were nominated to attend and represent the Trust by their fellow colleagues.
Chief operation officer, Karen Breen also received a personal invitation to the service from NHS England. She said:

"It's a privilege to attend Westminster Abbey today to join colleagues from across the NHS and take time to celebrate, be proud and reflect on everything the NHS has achieved during its 75 years."
When it was founded in 1948, the NHS was the first universal health system to be available to all, free at the point of delivery. From Britain's first heart transplant in 1958, to the world's first patient CT scan in 1971 and the world's first test-tube baby born in 1978, the NHS has also evolved and adapted to meet the needs of each generation. Today it treats over a million people a day in England and from all our clinical staff to the thousands of dedicated staff and volunteers who keep our hospitals moving - our SASH staff are a key part of that.
During the pandemic, having a single national health service enabled the NHS as a whole to carry out research at an unprecedented scale and not only find the world's first effective treatment for Covid-19, but deliver the first accredited Covid-19 vaccine and roll out a nationwide vaccine programme unseen anywhere else in the world. May Parsons, an associate chief nurse who delivered that first covid vaccine in December 2020, carried the George Cross, which the NHS received for its services during the pandemic, into the Abbey for today's service. May received the medal from Queen Elizabeth II last July, alongside NHS England Chief Executive Amanda Pritchard.
Karan Kapoor, consultant ENT surgeon at SASH, was nominated to attend the service by the specialist nursing team for living the Trust's "dignity and respect" value. Talking about the honour of attending and working for this NHS, he said:

"Being nominated to represent my colleagues at Westminster Abbey on the 75th anniversary of the NHS is a very humbling experience. It takes over five thousand of us to make our trust function, from the administrative teams making sure the patient is in the right place; the IT department making sure the backbone is strong, the estates and domestic staff maintaining a clean and safe workplace; our nurses monitoring, caring, and making the patient feel respected; doctors and allied health professionals making life-changing decisions; a management team keeping the system running, and teams that rehabilitate patients inside the hospital and beyond.

"As I walked through the doors of the Abbey, I thought of all my colleagues whose service and dedication to go that extra mile for patients each and every day, has helped make the NHS a bastion across the world."
The NHS was founded in 1948 and was the first universal health system to be available to all, free at the point of delivery.
We asked our SASH colleagues to share some of their most poignant memories of working at SASH since the establishment of the NHS.
Christian is a stroke unit charge nurse on Bletchingley and Hazelwood wards at East Surrey Hospital. Below, he tells us about a memorable time in at the Trust: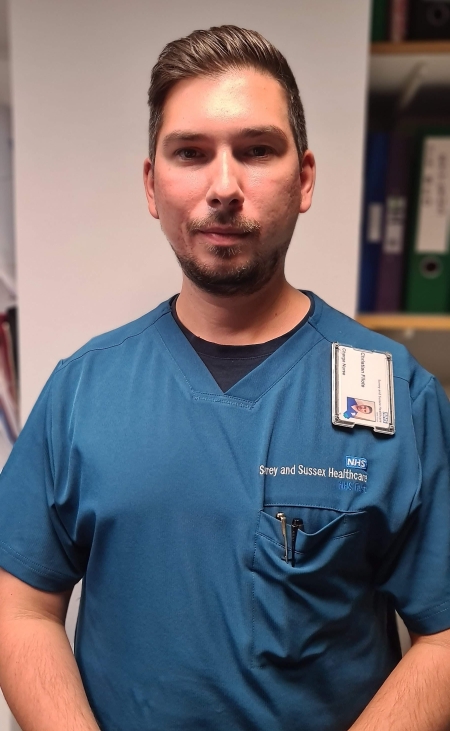 "I started working at SASH in November 2015. I planned to work in cardiology, but I was assigned the stroke unit. Sadly, my grandmother had had a stroke and unfortunately passed away from it, so it seemed as if life had come full circle. I had seen first hand how to care for her while I was in school and remembered how hard it was during the aftermath.

"It seemed as if destiny had wanted me to work in a stroke unit, so I went along with it and gave it a try. I was lucky to have, and still have even now, supporting colleagues and mentors to help me throughout good times and dark times.

"After some initial administrative issues, I worked my way up from a band 2, learnt all the basics in care as per UK guidelines, and began working as a band 5 staff nurse in the hyper acute stroke unit. I discovered my passion for this specialty and started reading and learning everything I could about strokes. After a few years I applied for a role as a band 6 charge nurse or stroke nurse coordinator, and got the position. This means I hold the stroke bleep and every time a stroke patient 'knocks' at our emergency department we act fast to save our patients.

"Thank you SASH for giving me the opportunity to be here and supporting me from the beginning. You changed my life, gave me the opportunity to make a difference and help patients in this condition."