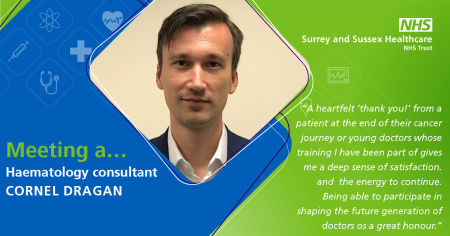 Who are you?
Cornel Dragan.
Summarise your role.
As one of the haematology consultants at SASH, I have a complex scope of work. My activity revolves around the patient. Whether I'm guiding them through their cancer journey, or offering advice on anticoagulation, you will find me mostly in a clinic room. I also strive to ensure the best care for our patients by being involved in research, quality improvement projects and teaching students and doctors. I am extremely fortunate to be part of an amazing team that sets out to go above and beyond for their patients. I also collaborate with colleagues from other specialities, in the true spirit of 'one team'.
What do you find rewarding about your role?
While seeing a patient from diagnosis until remission or end of life, I establish a meaningful connection with them which I highly value. A heartfelt 'Thank you!' from a patient at the end of the cancer journey gives meaning to my entire endeavour, and gives me the energy to continue. On another level, receiving words of gratitude from young doctors whose training I have been part of gives me a deep sense of satisfaction. Being able to participate in shaping the future generation of doctors gives me a great honour.
What do you find challenging?
Breaking bad news to a patient represents a daily occurrence. Giving someone a life changing diagnosis is extremely challenging. As healthcare professionals, we have to maintain our focus and be able to provide a course of action that would benefit the patient most, while being empathetic but also rational and objective. Having a variety of duties, it is a challenge to maintain an effective time management on a daily basis, which would not impact the work/life balance.
What do you enjoy outside of work?
When not working I try to spend as much time possible with my family. Also, I enjoy gardening and travelling.