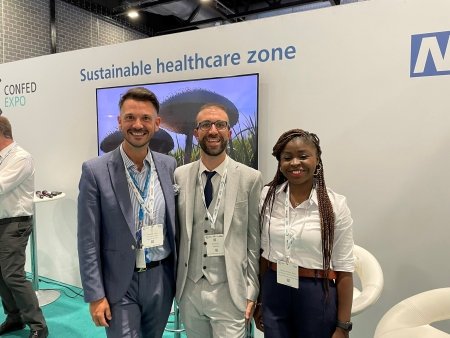 I've spent some of my week at the NHS Confederation Conference in Liverpool. There were lots of important discussions, but a highlight for me was hearing reflections from historian David Olusoga about the NHS and immigration. He drew fascinating parallels about how the NHS's history is intertwined with immigration, reminding delegates that our service has always relied on colleagues from across the globe. We are incredibly proud of our One Team - I feel honoured, for example, that we have many nurses joining us this year from overseas as part of our recruitment plans. It was great to see that Olufunmilayo Ajose, practice development nurse here and international recruitment fellow regionally, was at Confed presenting on this very issue - how to establish the NHS as a global and local employer of choice. Thank you to Olufunmilayo – I'm proud that you were representing us.
I wanted to shout out two groups of staff this week. Firstly, there's been a bit in the news about physician associates (PAs) in other parts of the NHS. Our PAs are a valued and fundamental part of our One Team here at SASH – they bring skill, experience and a wealth of knowledge that enables us to provide better care for patients. Like any role, it's so important to have the right support in place which is why I am so pleased that we continue to play a leading role in the Kent Surrey Sussex School of PAs.
Secondly, on Wednesday we celebrated the first healthcare estates and facilities day. Some people may not be aware of the range of roles that fall under estates and facilities. It would be impossible to provide care without our estates team, porters, housekeepers, ward hosts, catering colleagues, reception, switchboard and telephony staff, the security team, colleagues who manage the car parks and waste management, and every other role in the division - they are crucial.​​​​​​ I hope that by recognising this day we can raise the profile of these vital professions. My personal thanks go to each and every one of you.
At the weekend we saw our One Team value shine through as we responded to a significant challenge caused by a technical fault with our blood analysers. It meant that we were unable to process some blood test results and therefore had to take a number of actions to make sure we kept people safe. Our laboratory staff worked brilliantly alongside clinical and non-clinical colleagues over the course of the weekend to manage the situation. We were grateful for the support of local partners too, including colleagues from Berkshire and Surrey Pathology Services. Thank you to everyone who was part of the response.
This week has been NHS Knowledge and Libraries Week. At SASH our library and knowledge service team aims to provide the best evidence to inform and support our colleagues with the right knowledge and evidence to enable the highest possible standards of evidence based clinical care. They recently received some great feedback from a clinical colleague, who said they "provided an exemplary service with regards to supporting the Journal club, providing the evidence to support a pathway of care which has saved the trust thousands of pounds and improved patient safety." They've also recently had an interim report from a national quality assurance review which is extremely positive with one of the highest scores in the country, rating us highly in many areas. Well done team!
Today we said farewell to Lisa Thomson, HR business partner, who is moving on to another exciting role locally. Thank you to Lisa for your contribution to SASH over many years and I wish you all the best in the new job – we'll miss you.
A huge well done to Matt Daley and Pippa Cossens who this week completed their challenge of climbing the three national peaks and travelling from Land's End to John O' Groats. They've already raised thousands of pounds for bereavement support through SASH Charity and you can find out more here.
I hope you've managed to enjoy some of the warm weather this week. Remember to keep hydrated and keep that sun screen to hand! Our buildings get very warm so thank you to all of our colleagues for persevering and supporting patients with cool drinks and ice lollies!
Best wishes
Angela Stevenson
Chief executive