Clinical experts from Surrey and Sussex Healthcare NHS Trust (SASH) were in the departure lounge at Gatwick Airport's South Terminal on Monday 17 October to mark Restart a Heart Day and raise awareness of the airport's partnership with one of its official charity partners, SASH Charity.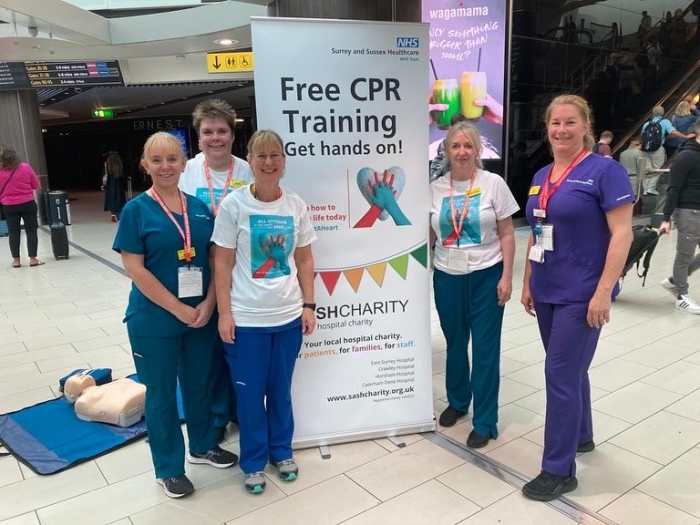 The resuscitation team, critical care outreach team and clinical nurse specialists, were on hand to show members of the public how to deliver cardio-pulmonary resuscitation (CPR), use a defibrillator and learn more about the significant role we can all play in increasing the survival rates of out-of-hospital cardiac arrests.

Restart a Heart Day is an annual mass CPR training event led by Resuscitation Council UK, which aims to increase the number of people surviving out-of-hospital cardiac arrests. There are more than 30,000 out-of-hospital cardiac arrests in the UK every year and it is predicted that thousands of lives could be saved every year if CPR was taught more widely.1 Every minute without CPR and defibrillation reduces the chance of survival by up to 10%. But when someone has a cardiac arrest, performing immediate CPR can help double their chance of survival in some cases.2
Throughout the day, the team from SASH were stationed in a cordoned-off area of the departure lounge, where they taught the benefits of bystander CPR to over 150 holidaymakers and jetsetters as they waited to board their flights. The volunteers included everyone from children to pensioners, who were all asked to perform one minute of CPR on a manikin and use the public access defibrillator in order to receive a certificate.
Therese Sidney, lead resuscitation officer at SASH, said:

"It was so encouraging to witness the eagerness of the general public to learn the essential skill of CPR. Survival rates of out of-hospital cardiac arrest are low across UK, so it's crucial that as many people as possible become confident in intervening and playing their part in the chain of survival.

"It was a pleasure to collaborate with Gatwick Airport and our brilliant SASH colleagues on the day. We're looking forward to passing on our knowledge to other members of the local community at future training events."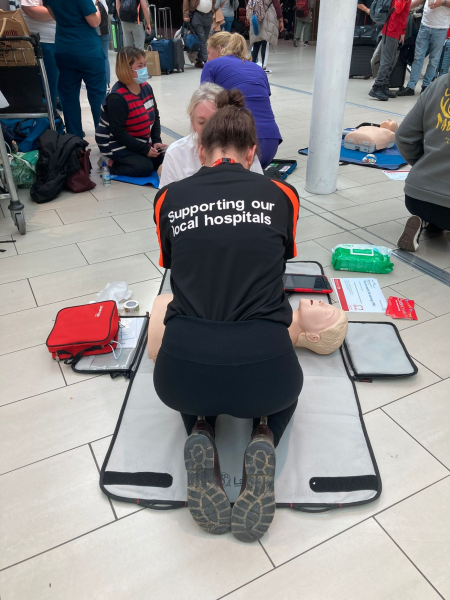 During the pandemic, staff at Gatwick Airport voted for SASH Charity to become an official charity partner. SASH Charity is the charity for East Surrey Hospital and all the services provided by Surrey and Sussex Healthcare NHS Trust. It supports the community and SASH staff by providing state of the art equipment, improving the hospital environment and funding great ideas. The partnership was extended to two years as a result of inactivity due to COVID-19.
Clare Leonard, finance officer at SASH Charity, said:

"We are thrilled to be working with Gatwick Airport for another year and thoroughly enjoyed the opportunity to join forces on Restart a Heart Day. We loved seeing the influence that our partnership can have on the local community as we taught vital skills, which will ultimately save lives, while also raising funds for such an important cause."
Anyone can be affected by a sudden cardiac arrest at any time, and without intervention, the person will quickly die. When someone collapses and stops breathing normally, it is important to quickly call 999, perform CPR and use a defibrillator. This gives the person their best chance of survival.
---
1 Nolan, J.P et al (2010): European Resuscitation Council Guidelines for Resuscitation 2010, Resuscitation 2010;81:1219-1451.
2 Resuscitation to Recovery, https://www.resus.org.uk/publications/resuscitation-to-recovery/