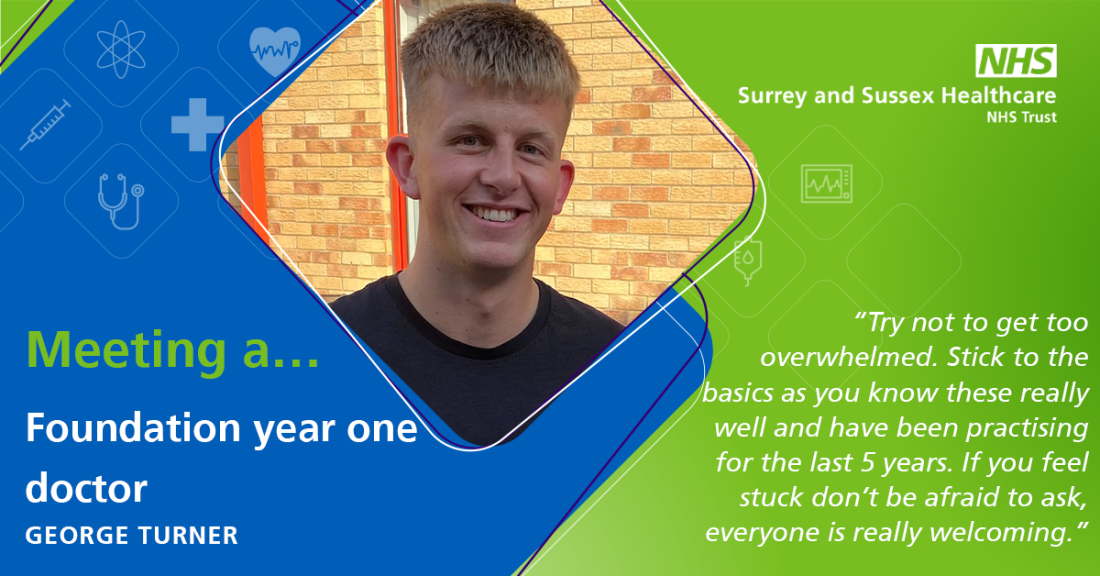 Who are you?
Hello all, my name is George, and I am one of the foundation year 1 doctors.
Summarise your role.
My role involves looking after the ward patients on a day-to-day basis and implementing the plans created on the ward round as well as on call duties. In addition to this I am involved in the doctors' mess team where we try to create a safe space for doctors to relax and organise social events to build team spirit.
What do you find rewarding about your role?
With me, it's the simple things. Seeing patients get better and their personalities slowly coming back as they feel better always put a smile on my face.
What do you find challenging?
At the beginning of the year, I struggled with the work life balance, often finding it hard to shut off after work. What I found helpful was chatting to friends after work, where we'd offload to each other. Even though this was only 10 minutes it made all the difference.
What do you enjoy outside of work?
I like to keep busy outside work as I find it helps me relax. I've recently put my mind towards endurance sports. Recently I completed a triathlon, and I am currently training for a half marathon. I'm slowly trying to corrupt my friends into joining me!
Any advice for new FY1s?
Try not to get too overwhelmed. Stick to the basics as you know these really well and have been practising for the last 5 years. If you feel stuck don't be afraid to ask, everyone is really welcoming.
Any farewell messages to FY2s?
It isn't a farewell as I am sure we'll all meet again, good luck with your next rotations!