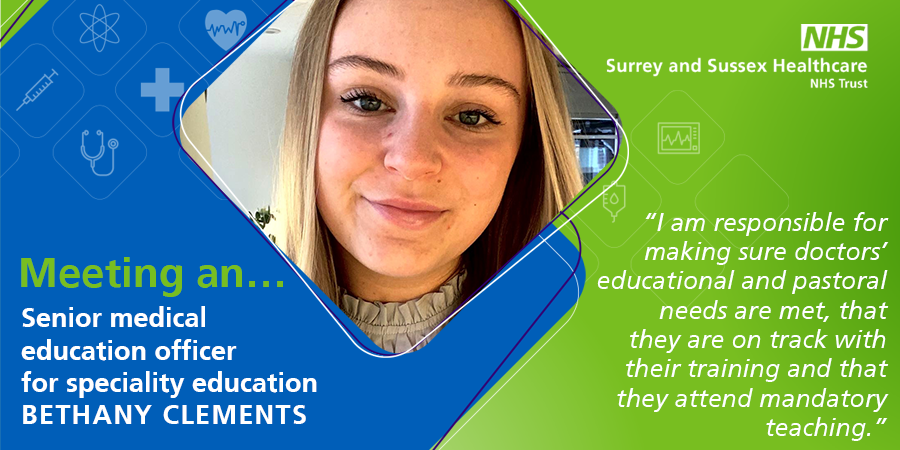 Who are you?
Bethany Clements
Summarise your role.
I am proud of the fact that I started in the department as an educational apprentice and have worked hard to achieve and reach my position within two years. In my role I support core and higher doctors in training throughout SASH. I am responsible for making sure their educational and pastoral needs are met, that they are on track with their training and that they attend mandatory teaching. I design and organise the teaching programme for medicine and take the lead in arranging departmental meetings to evaluate and monitor their progress throughout the year. I do this by working with the clinical leads in each department. If a doctor in training has a problem or question, I am available to help them, alongside their educational and clinical supervisor's. I also support the education team with administration such as processing study leavem, and organising exams and training events held at the centre.
What do you find rewarding about your role?
I love supporting the doctors in training and knowing I am doing a good job for them is very rewarding. I like being busy, prepared, and knowing I am organised and good at my job is immensely satisfying. I like the seeing the doctors in training reach the end of their training year and I am very proud of the support the PGME Team gives them.
What do you find challenging?
My work load tends to increase with hospital pressures so the most challenging part of my job is prioritising and juggling many different tasks and responsibilities with set deadlines.
What do you enjoy outside of work?
I care for and ride my two horses in my spare time, I have an active social life and enjoy travelling and spending time with my family.