Congratulations to our research team who last night won best Clinical Site Team in the Pharma Times International Clinical Researcher of the Year Awards! Samantha Clueit, Sarah Davies and Louise Nimako clearly impressed the judges when they showcased our ability to deliver excellence in the setting up and conducting of research trials. They had to outline their knowledge and general approach to clinical research set up and delivery and respond to tasks that tested their skills and experience. They also held off stiff competition from some big players in the field of research - very many congratulations!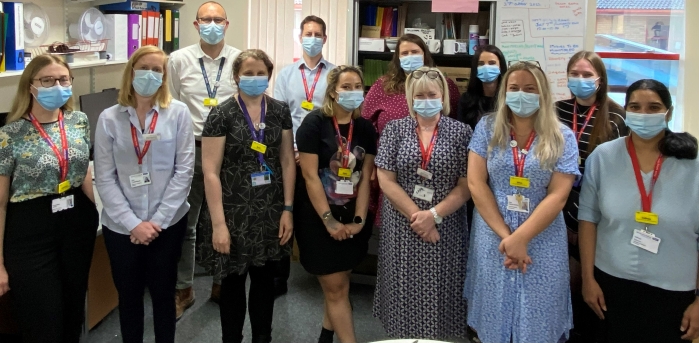 Despite today's rain, it's really warmed up this week and feels like summer is on the way. For a while now, our teams have been saying they wanted more space to be able to sit and eat lunch outside, to take breaks or to have small meetings with colleagues. I'm pleased that next week some more outdoor seating is arriving for this purpose. There will be a new covered gazebo with benches opposite the east entrance and next to the existing pods – we're trying to make this area a nice place for staff to take breaks whatever the temperature! There will be a similar gazebo opposite Redwood Annex, with more benches near the pond and in some of our courtyards. We know we need more than this and are still planning to create more seating outside Trust HQ too. Many thanks to people who donated to SASH Charity to make this all possible. It follows SASH Charity investment of some £13,000 in equipment for staff rooms and Crawley, Horsham, Caterham Dene and the Earlswood Centre.
Speaking of Crawley, I enjoyed seeing the team on Concorde Ward yesterday. The team have done a great job since moving there, taking it all in their stride - and importantly the patients were all very happy!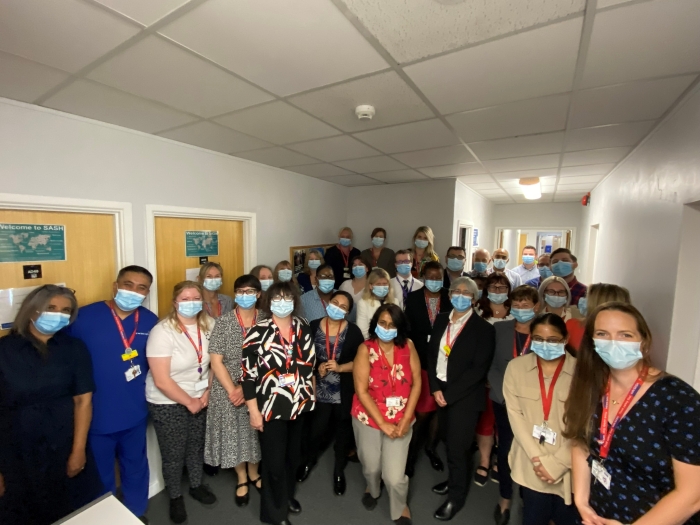 Today is International HR Day and a great opportunity to recognise and celebrate a hugely important profession. In so many ways people who work within our HR (or People and Culture, as we call it) directorate are hidden heroes of our trust. They support every other member of staff during their time with us, help us recruit new talent, provide great learning and training opportunities, oversee our wonderful volunteers, manage our on-site nursery, provide occupational, health and safety advice for colleagues, find ways to hear from our staff so we can improve…the list goes on, but the point is that the directorate is critical to our ability to function as an organisation and provide the care we do for patients. My thanks go to Elizabeth Nyawade, our chief of people and culture, and her whole team for everything they're doing to support our colleagues and shape the future of working in the NHS. Some of them have been sharing their proudest achievements and you can take a look on social media.
We're making progress on working across East Surrey Place to benefit the health of our population. It's crucial we have strong clinical leadership to drive through the developments that will have the biggest impact for patients. I'm pleased we've been able to confirm clinical leads for two of our priority programmes within East Surrey Place. Dr Iain Wilkinson, consultant geriatrician and clinical lead for medicine for the elderly here, and Dr Michael Bosch, a local GP, will share the clinical lead role for ageing well. Dr Elspeth Potton, respiratory consultant here, will be the professional lead for respiratory.
I wanted to take a moment to recognise and thank our consultants who provide really strong clinical and professional leadership across our organisation. They've done this throughout the pandemic and I'm conscious how challenging it continues to be. We're fortunate to have a strong team and it's great that many are playing an active role in the developments at system level too. I'm keen we take the time to work together on development plans for clinical leadership in the weeks ahead.
This week has been dementia action week. We have a track record of providing outstanding care for people living with dementia, having been named best dementia friendly hospital in England in 2019. We're determined to build on our successes - we've refreshed our dementia strategy and are now working across the organisation to make sure everyone plays their part in delivering it. One effective way is by training dementia friends, and I'm delighted that this week staff nurse Keone Mzingwani was presented with a certificate for becoming our 4,000th dementia friend. Read more about the training, our strategy and how we've marked the week here.
If you use our Cerner electronic patient record, you have less than six weeks left to complete your important eSASH elearning. You must have completed it by 26 June. I urge all managers and heads of department to support their staff to book onto the training and complete it as soon possible. Find out more on SASHnet and keep an eye out for your department's data on training uptake – I'll be asking you how you're doing!
Looking ahead, teams across our trust and the wider system are already working hard to make sure patients can be discharged when they're ready to leave our care ahead of what we expect to be a busy Jubilee bank holiday weekend. Keep up the focus; it makes a big difference. I hope lots of you will take part in our Jubilee bake-off too. We're encouraging teams to crown their own bake-off winners on 1 June; I look forward to seeing your creations!
Best wishes
Angela Stevenson
Chief executive