Hello all,
It's been a tough week, as we mourned the loss of two colleagues. Rebecca Dunsterville, head of nursing for surgery, passed away after a short period of illness. Rebecca had been at SASH for many years, providing inspirational leadership and friendship for many of us. So many people have been fondly remembering her laugh, her absolute focus on doing the right thing with minimum fuss, and the support that she provided to them through their own challenges. These things, and many more, made her incredibly respected and loved - we'll miss her greatly.
Debbie Macari, a much loved and valued friend from our pathology specimen reception team, passed away after suffering from cancer. Debbie had been in the team for three years, but they told me it felt like they'd known her a lifetime. Having started her NHS career as a trainee learning disability nurse at the Royal Earlswood Hospital, she continued in nursing until joining our pathology team. She'll be remembered for being funny, kind, caring and not afraid to speak out when she saw injustice. Her team miss her quirky sense of humour and love of Dolly Parton which always caused them great amusement. When faced with a tricky situation she'd say 'what would Dolly do' - and she said that often over the last couple of years! She was a dedicated and well-respected member of our family and we all miss her.
Rates of COVID are going up again. We've seen the number of patients with a positive test in our services increase by around 65% this week. Many of these are in hospital for other reasons, but some are coming to us because of respiratory difficulties associated with the virus. This of course means we have to reorganise how we use some of our wards so that those with COVID are cared for separately from others. I'm grateful to colleagues for managing this complex task calmly and professionally. We're doing all we can to make sure that this doesn't impact on areas that need to be protected for patients' diagnostic and cardiac procedures. We've made lots of progress in recent weeks to enable these areas to undertake more of their vital work and we'll keep this up as much as we possibly can. To help us in these efforts, and to ensure we protect each other and our vulnerable patients, we've reverted to compulsory mask wearing in all areas of our buildings, including offices and non-clinical areas. It's really important that we all wear the right PPE in clinical areas too so if you are at all unsure or feel like you need a refresh, don't be shy - please speak with the infection control team or the person in charge of the area.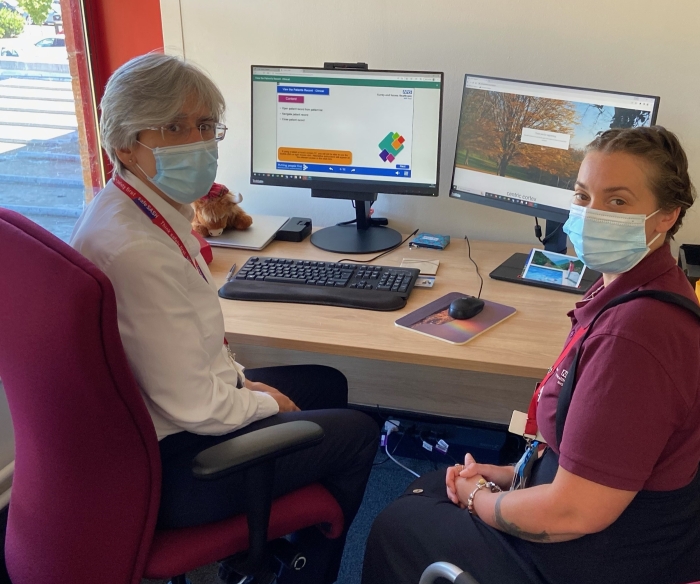 I've finished my eSASH elearning today – thank you to Hanah Mecrow for the support. It brought to life what we can expect from our new EPR, which goes live in September. Lots of our colleagues have now done their training, but if you haven't please do so as soon as possible. I know there have been a few frustrations with accessing the training, but the team have been doing all they can to make it as straightforward as possible.
We held our latest kaizen open day yesterday – a chance for people from other NHS organisations to come and hear about our SASH+ continuous improvement methodology. Our Kaizen Promotion Office (KPO) did a sterling job showcasing how SASH+ helps us make services better, adding value and reducing waste. Katie Davies and Carly Knell shared their experiences and reflections on participating in Lean for Leaders, while Jo Rhodes shared how the tools and techniques from the SASH+ management system were used in the development of the COVID vaccination programme. We're hoping our next open day will be able to be in person! Look out for details on our website.
I'm really excited that we're planning to hold our Big Thank You Festival again this year. It was a great success last year, with colleagues and their families enjoying live music, refreshments and entertainment at Flower Farm. If you didn't come last year and want to get an idea of what to expect, you can read more and see some photos here. This year we're very pleased to be opening up the event to health and care staff across Surrey and Sussex – we work closely together, rely on each other and all deserve a thank you! It'll be on 2-4 September and we'll publish booking details soon.
Finally, the latest quarterly staff survey is live! I urge you to complete it – it can be done in just a few clicks as there are only nine multiple choice questions. It really helps us to keep up with what our colleagues think about working at SASH so make sure your voice counts! The survey is anonymous, but the themes come to our executive team and we develop detailed action plans as a result. Your feedback in recent surveys has led to us relaunching awards schemes and putting together a group to tackle violence and aggression. Complete the survey now by accessing the link in your emails, or see one of our volunteers coming round to your area in person with a QR code.
Best wishes
Angela Stevenson
Chief executive