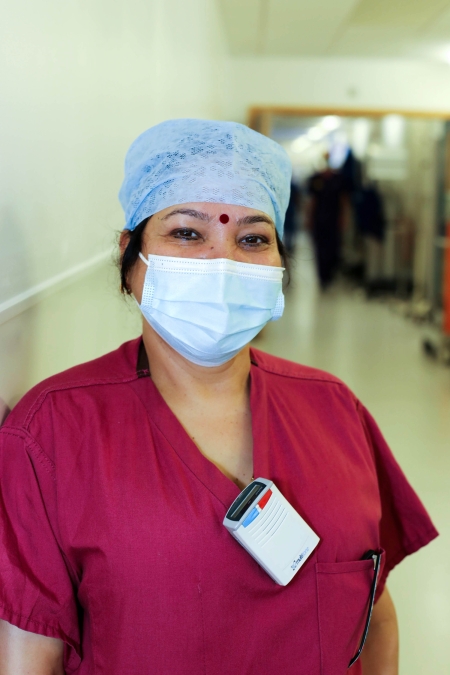 South Asian Heritage Month (SAHM) is happening from 18 July until 17 August and the theme for 2022 is Journeys of Empire. SASH staff of South Asian heritage are taking part by sharing their case studies.



1. Why did you join the NHS?
To provide health services to community.
2. Tell us about your NHS journey.
I started my journey with the NHS in 2007 at John Redcliffe Hospital in Oxford as a paediatric theatre scrub nurse. I then moved to East Kent Hospitals University NHS Foundation Trust and worked in Queen Elizabeth The Queen Mother Hospital.
I applied for a Band 6 post at the Royal Marsden Hospital in Sutton in 2009 and worked there for a year. I moved to Charing Cross Hospital in 2010 to explore more about my job and enhance my knowledge and skills.
After that, I worked in Epsom General Hospital from 2012 to 2018. Since January 2018 and up until now I am working in East surrey Hospital as a Urology Theatre Lead (Band
3. Describe your proudest moment
My proudest moment was when I was offered a job at East Surrey Hospital as the urology theatre lead. It would also be when, under my leadership, the first robotic surgery started on 26 May 2021.
4. What does South Asian Heritage Month mean to you?
It makes me feel very proud when I see south Asian professionals, who are highly educated professionals and passionate about their job.
5. What makes you proud about your culture and heritage.
I am an Indian woman and deeply attached to my culture. However, a common quality for many Indians is that they are cultured and at the same time, adoptiven of other cultures. By nature, we are generally very kind, passionate about what we do, and we take pride in our work. Wherever we go we take our colourful culture and food!
6. What is the one South Asian dish you cannot live without or what is your favourite South Asian food?
Curries and rice.
7. If you weren't in your current job, what would you be doing?
Teaching. However, I must say I born to be a nurse and I'm very proud of it!
For more activities, visit the South Asian Heritage Month website to discover a calendar of online events, or take a look at SASHnet to find out how we'll be celebrating at SASH.