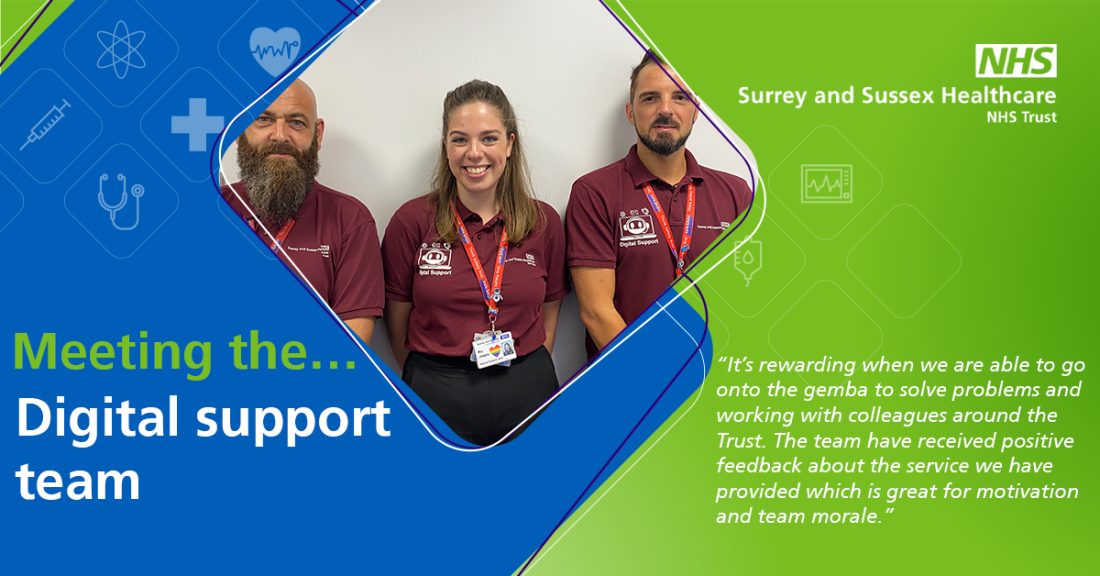 Who are you?
David, Rio and Pedro.
Summarise your role.
Our role as digital support will be to provide a dedicated support service for eSASH go live and then the IT service desk when it moves back to SASH.
During eSASH go live we will be the dedicated phone support line and available 24/7 during the first part of the programme. After go live we will be bringing the IT help desk in house and becoming the new on-site helpdesk within the medical records department.
What do you find rewarding about your roles?
When we are able to go onto the genba to solve problems and working with colleagues around the Trust. The team has already received positive feedback about the service, which is great for motivation and team morale.
What do you find challenging?
As digital support is a new team, we are trying to establish new processes and learning the role to the best of our ability.
The role can be demanding at times as we are preparing to support with the eSASH go live. We are also preparing for when the IT help desk moves in house at the beginning of October.
What do you enjoy outside of work?
Pedro loves technology, playing video games, going to the gym and listening to classical or Latin music. Rio likes reading and spending time with friends and family. David enjoys listening to heavy metal, Tottenham Hotspur and taking his puppy, Betty, out for walks.
We all enjoy Sundays in front of the TV watching the Formula 1!
Feeling inspired? Take a look at our job vacancies.